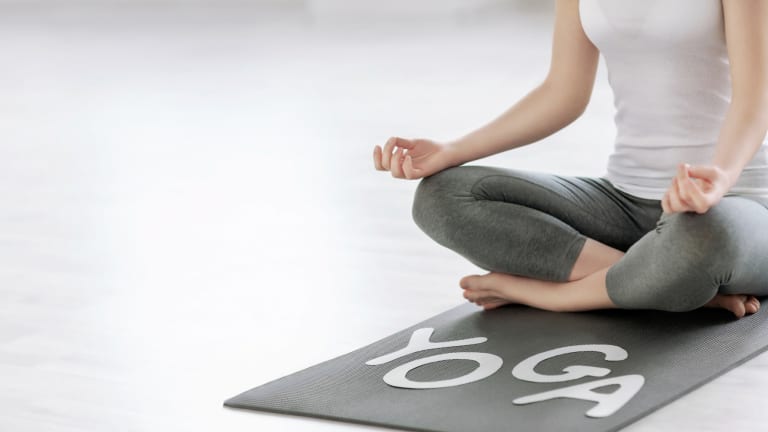 Create Your Own Yoga Sanctuary
Namaste Your Way Into the New Year
The New Year is "supposed" to be about making grand goals and resolutions for the year ahead. Still, how often do these so-called transformations end before they even really begin? You want to eat better, mediate more, and do yoga every day. But it's hard to keep up with these "changes" with so many distractions and so much going on in your day-to-day life...
That means, if you want to have success, the first step is getting in the right mindset. If you fall in the aspiring yogi boat, establishing a designated zen space for your daily practice can help set the serene scene and get you in the right place mentally and physically. 
Related: Fitting yoga into your mom life
Ashleigh Sergeant, Head of Yoga Content for Gaia.com, a streaming service offering a broad range of video classes, is sharing her top three tips to help you create an at-home yoga sanctuary and stick to your resolution. And we're supplying three of our own bonus tips to help you namaste all day.
Six Ways to Create Your Own Yoga Sanctuary
1. Yoga Mat – The #1 Essential! – Don't practice on carpet! When you're weight bearing on bones and knees, a sticky mat provides provide padding, but also gives grip and prevents sliding.
2. Laptop/streaming device – If you would like a guided practice, make sure your device is large enough so you can easily see (if you are a beginner or experimenting with new poses) and loud enough so you can hear your instructor from various angles. 
3. Yoga accessories – Blocks, bolsters, straps, meditation cushions, and blankets can not only assist your practice through various poses that can sometimes be challenging, but also help you set the scene for your sanctuary.
4. Greenery or fresh flowers - Nature can help set you in a more relaxed frame of mind. The second you see a plant, you'll instantly feel calmer and less frantic. It'll remind you to slow down; to literally stop and smell the flowers and enjoy this little practice you've started. I like succulents because they are beautiful and require low maintenance.
5. Tech Free (well besides the device your streaming from!) - Treat this at-home practice with respect (as you would in a class setting!) and turn off the TVs, disregard emails and texts, and enjoy a quiet corner meant only for self care and peaceful resolution.
6. BYO Water - You may be at home, but you should still have a designated refillable water bottle at your side. That way, you won't get distracted getting a glass of H20, and you'll stay hydrated and happy.
MORE YOGA FROM MOMTRENDS
PIN IT!
Use Pinterest to save your favorite ideas from Momtrends. Be sure to follow our Fitness and health board here.
This is not a sponsored post. It contains affiliate links. All opinions are our own.