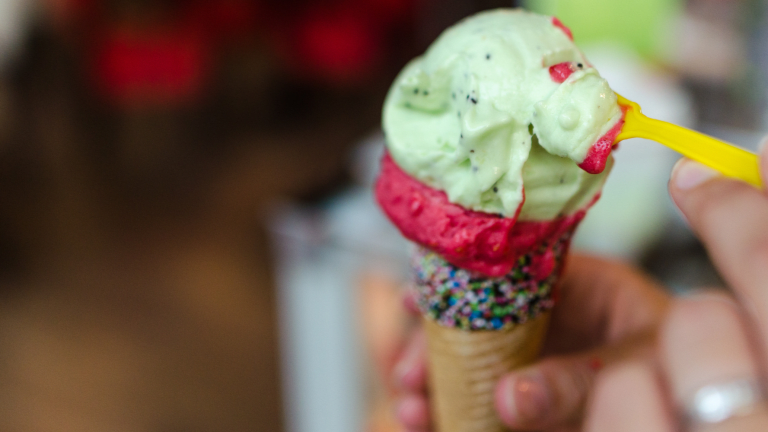 Publish date:
Epic Ice-Cream Creations
To celebration National Ice Cream Day (July 20), I've rounded up a few of the most epic ice cream recipes.
To celebration National Ice Cream Day (July 20), I've rounded up a few of the most epic ice cream recipes.
Ice cream is a staple in my summer diet. In fact, most nights, I'd be happy to skip dinner and go straight to a big ole bowl of cookies and cream or mint chocolate chip or pistachio or mocha-java or rocky road... (I could keep going, but I'll spare you my never-ending list.) I'm pretty sure my kids feel the same considering it's all they ask for from the time they get out of camp until the time I finally give in and dollop a giant scoop of vanilla bean deliciousness. 
Related: Healthy matcha ice cream recipe
Celebrate Ice Cream this Summer
Of course, as much as I love these classic and simple flavors, I'm always excited to switch things up and try new twists on this traditional summer dessert. In fact, I especially enjoy eating ice cream when it has been transformed into a totally different dessert!
To celebration National Ice Cream Day (July 20), I've rounded up a few of the most epic ice cream recipes. I scream, you scream, we all scream for these amazing cold creations.
Eight over the top Ice Cream Creations
Ice Cream Sandwich via Lil Luna: Prep this ice cream sandwich in minutes!
Golden Oreo Cake Batter Ice Cream Pie via Confessions of a Baking Queen: This Golden Oreo Cake Batter Ice Cream Pie will solve all your summertime problems
Fried Ice Cream via Delish: a safer way to create this country fair treat.
Ice Cream Cone Pigs via Hungry Happenings: a pink treat for those who love bubble gum ice cream.

5 Pretty Ways To Organize Your Jewelry
I admit - I'm guilt. Despite my best efforts, my "jewelry drawer" has become a tangled mess of necklaces, bracelets and earrings. This cluttered collection not only makes it hard to see what I have, but difficult to untangle the pieces I do want to wear! This summer, I'm ...read more
This Year's Coolest Jumbo Pool Floats
Pool season is almost here! I can't wait to relax, read a book, and sip a cocktail while lazily drifting in an oversized float. (Just kidding, I have two toddlers--but a swim mama can dream, right?). If you've got a staycation planned, check out this year's coolest jumbo pool ...read more
Crystal Clear and Pristine: Pool-Cleaning Tips
Tropical Storm Isaiah gave us quite the midsummer surprise here in the suburbs of New York City. We just got our power back on after a whole week of darkness! With trees down, debris everywhere, and lots of uncertainty, one thing we forgot to check on: our above ground Intex ...read more
Strawberry Ice Cream Cake via Scattered Thoughts of a Crafty Mom: the perfect make ahead dessert for parties.
Cookie Dough Ice Cream Sandwiches via Mel's Kitchen Cafe: Layers of chocolate chip cookie dough sandwiching creamy cookie dough ice cream. 
Ice-Cream Filled Pineapple via A Subtle Revelry: a recipe with a tropical twist.
Unicorn Poop Ice Cream via MomDot: This is perfect for birthday parties. 
MORE SUMMER FUN FOR MOMS
PIN IT!
Use Pinterest to save your favorite fashion posts. Be sure to follow our Summer fun board here.
This is not a sponsored post.