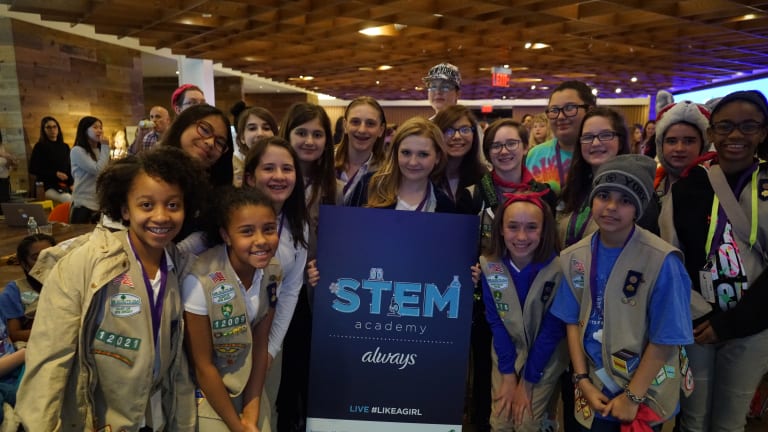 Embracing STEM #LikeAGirl
Girl Scouts dive into science, technology, engineering, and math (STEM) with Always #LikeAGirl and Walmart
When it comes to what the future looks like for my girls, the sky's the limit. I think we'll get a woman president in my lifetime. And I think female pilots and engineers will help us get there. The more we see women in careers traditionally thought of as "men's work," the bolder our girls become. It's my job to help them dream bigger and audaciously pursue their passions. I know there is work to do to help my daughters. That's why I'm embracing STEM #LikeAGirl.
A few years ago, I aligned myself with Always and Tampax (check out this fun video here) and it's a partnership I'm proud of. Always #LikeAGirl is doing the important work to talk about puberty and how it affects girls. Always never stops pushing the conversation to the forefront of our culture and I stand right there with them. For the past 35 years, Always has been championing girls' confidence and encouraging girls to realize their full potential. And for over 106 years Girl Scouts has been preparing girls for a lifetime of leadership.
The mission is a personal one. My girls are 10 and 12 and we are knee-deep in puberty. Right now in school, one daughter is studying the food chain with great fascination and the other is preparing for the 7th grade science fair. I want them to do hard work, embrace the struggle and persevere...#LikeAGirl. Having a mom as a cheerleader certainly helps, but they need more. 
Always #LikeAGirl is studying the roadblocks that get in the way of girls' dreams. Here's what they found…
SEVEN IN TEN GIRLS REPORT BEING SO AFRAID OF FAILING DURING PUBERTY THAT THEY AVOID TRYING NEW THINGS.¹
This is especially true within science, tech, engineering and math (the STEM subjects). Always learned that before puberty, 87% of girls are interested in STEM but experiencing failure makes 1 in 2 girls choose not to study STEM fields². Things are changing thanks to committed parents, school, brands like Always and organizations like Girl Scouts of the USA (GSUSA). 
Always & Walmart Live #LikeaGirl STEM Academy
Last week I joined Girls Scouts of the USA, Always and Walmart at a very special event. The event kicked-off an initiative that comes with a $250,000 financial commitment from Always #LikeAGirl, with the support of Walmart, to support GSUSA's STEM programming and encourage girls to Keep Going as they pursue STEM. The "STEM Academy" event took place at Jet.com HQ (a Walmart company) in Hoboken, NJ. 
For the big event, 100 girls from 10 Girl Scout troops across the nation took part in a full-day of STEM-related and confidence-building activites.. Since Girl Scouts are all about learning by doing, the program required each troop to complete a Take Action project that uses STEM to help solve a problem in their local community. To help them along the process, accomplished women in STEM who work at Procter & Gamble, Walmart and Jet.com are serving as their mentors.
The day kicked off with a power STEM panel moderated by my friend (and tech writer) Leticia Barr. The panel included Jet.com VP of E-Commerce, Mobile and Digital Marketing Sumaiya Balbale; Chandrika Katsuri, R&D Director at P&GFemCare; Tracy Van Houten, Systems Engineer at NASA JPL and Engineer on the Mars 2020 Mission; Sylvia Acevedo, CEO of Girls Scouts of the USA & Rocket Scientist and Dr. Knatokie Ford, Founder of Fly Sci Enterprise and former Senior Policy Advisor at the White House Office of Science & Technology Policy under the Obama administration.
Leticia did a great job pulling nuggets of wisdom from her panel. Each woman had a connection to science as well as the Girl Scouts. 
Girl Scouts confidence led me to believe I could be a scientist when there were very few scientists.
Chandrika explained why we need more girls in science:
Science is about unraveling questions. I challenge you to use science to understand what is going on around you every day.
Dr. Ford gave us some truth bombs:
It's so important for you to be there. I can't promise you it will be easy. Don't take that as a cue that you don't belong.
From there, we headed into STEM sessions it was time to dive in and LIVE STEM, not just listen. The Girl Scouts broke out into small working groups to maximize on the experiences.
Session 1: Improv 
Here's what we know: 50% of girls are afraid to take a risk because of fear of failure¹. Improv is the perfect tool to show girls it's ok to take risks. Improv is about taking an idea and running with it. Then you riff off other's ideas and you keep going and evolving. It's teamwork and silly and a fabulous way to generate a ton of solutions to a joint problem. Actress Abigail Breslin, also a Girl Scout alum (and I just loved her in Little Miss Sunshine) joined in the fun. The Harnisch Foundation's Funny Girls Improv was a huge hit with everyone.
Session 2: Slime Making
This mysteriously addictive goo has mesmerized my girls for about a year. Now I'm hooked too! Leticia shared her special recipe (one bottle Elmer's glitter glue, 1/2 tablespoon saline solution, 1 tablespoon baking soda) and we mixed up the magic slime. It was all in the name of science...we made a polymer NOT just a mess.
Session 3: Programming
Dr. Knatokie Ford taught us a little about problem solving with algorithms. While it might have looked like we were all playing card tricks, we were really figuring out how to scale solutions.
Session 4: Robotics
Tracy Van Houten (I adore her twitter handle @STEMinstTracy) walked us through building a simple sensor. This hands on session stumped some of the girls, but that's ok, trial and error is where all the great learning happens.
I came out of the day's sessions with a mission to bring the messages I learned into practice with my girls. As a mom, I can stay on top of their school work and expose them to STEM in the world. I can also take the opportunity to find mentors for them. My 4th grader had her optometry appointment a few months ago and showed great fascination with all the equipment. We've been seeing the doctor for years, and I asked if he ever did internships. He does! I'll definitely be hitting him up for her middle school project. All I need to do was ask.
I brought home the Always swag bag from the event and my 10 year old loved the quote on the notebook:
We only truly fail when we don't even try.
Here's to trying, failing and moving forward #LikeAGirl.
This Embracing STEM #LikeAGirl feature is sponsored by Always.
For more information, visit https://www.girlscouts.org/en/about-girl-scouts/our-partners/always-walmart.html.
¹The Always Confidence & Puberty Study Wave V, March 2017; based on U.S. females 16-24 years old; 2017 census.
²The Always Confidence & Puberty STEM Study, August 2017; based on U.S. Females 16-24 years old; 2017 census.