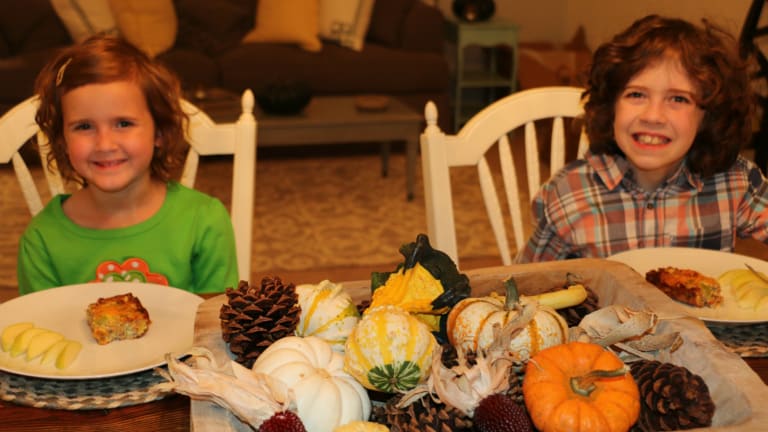 Easy Egg Bake Casserole Recipe
The simple dish your holiday celebration needs...
This post is written by me on behalf of Tyson Foods, Inc. All opinions are entirely my own.
The holidays are a big deal in my family. I mean, they're a BIG deal. As soon as Halloween is over, the Thanksgiving decorations go up. And while decorating for each holiday season is definitely a beloved tradition for us, our number one focus is spending time together. That means we aim to make special memories out of ordinary things that we do every day. Take breakfast for instance. We, obviously, eat it every single morning. But on November mornings, you just might find us noshing on one of our family's favorite dishes. My husband's easy egg bake casserole recipe is super simple to whip up, yet a HUGE crowd pleaser.
In fact, it's so tasty, we don't limit it to breakfast. It's been known to make a brinner (breakfast for dinner) appearance as well. And the best part about this easy egg bake casserole recipe is that you can easily switch up the ingredients! While, we typically make it with pork sausage, we've been lightening things up a bit lately and for this year's first egg bake showing we decided to swap out the pork for turkey patties, Jimmy Dean® Fully Cooked Sausage style. We picked some up at our favorite supermarket, Publix and I do believe we'll be heading back for more. Not only did our egg bake taste just as good, but we cut down on prep time because we didn't have to cook the sausage first. We just quickly cut up the already cooked, perfectly seasoned patties. Why spend extra time in the kitchen when you could be spending that time with your family?
It seriously thrills me to no end to see how excited the kiddos get when we serve up this special seasonal dish. The fact that they look forward to it each year has made it a tradition of its own, which is why I'm more than delighted to serve up the best to them. Our egg bake casserole is totally splurge worthy and the holiday season is the perfect time to treat your loved ones after all! So, if you too are ready to treat your family, why not try your hand at making our family's easy egg bake casserole recipe?! You can bet we'll be making it for MULTIPLE, pre-Thanksgiving, protein packed-meals. Haha!
EASY EGG BAKE CASSEROLE RECIPE (serves 6-8)
Prep Time: 10 min.
Cooking Time: 25 min.
Total Time: 35 min.
Ingredients:
8 eggs
7 ounces shredded cheddar cheese
6 pieces of bread
¾ of a large pepper
¾ of a yellow onion
1 package of Jimmy Dean® Fully Cooked Sausage Patties
Directions:
Pre-heat oven to 425.
Cut up the Jimmy Dean® Fully Cooked Sausage into small pieces.
Dice the onion and green and peppers.
Combine sausage, pepper and onion in a large bowl.
Rip up the bread into small pieces and place in bowl.
Add 6 oz. shredded cheese to bowl.
Mix everything together.
Add to a large, rectangular casserole dish.
In the empty bowl beat eggs.
Pour egg mixture into casserole dish and spread evenly.
Sprinkle remaining cheese on top.
Sprinkle salt and pepper on top.
Bake for about 25 minutes.
Serve with love!
Now, that you've heard about one of my family's go-to holiday traditions, don't forget to head to your local Publix Supermarket to get all the fixins' for your own egg bake casserole! Every day is a good day to celebrate in our book!
I was selected for this opportunity as a member of CLEVER and the content and opinions expressed here are all my own.