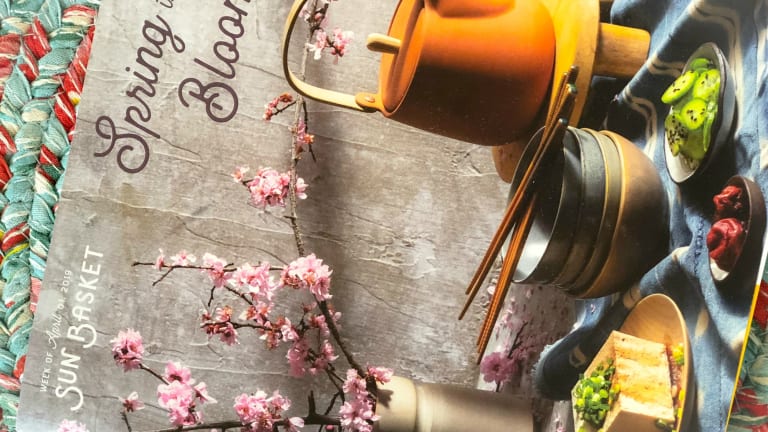 Self care has become such a buzz word lately hasn't it? In fact, it's become such a focus, that it can leave some of us feeling guilt about not practicing self care. And that is the exact opposite of what any of us over worked moms need. Am I right? So, let's try to set aside any negativity we have surrounding the subject of self care and talk about some easy self care switches for moms that we can make now! Because until summer hits, things aren't likely to slow down. It's the last quarter fo the school year, spring sports are in full effect and don't get me started on all the house projects that need our attention this time of year. It's ok if we take a beat to make things a bit easier on ourselves!
And on that note, I recently connected with Sun Basket, a meal delivery service that drops organic, clean ingredients at your door in recyclable, compostable packaging so you can easily put together a delicious, healthy meal without having to do any planning. According to them self care is all about renewing yourself physically and mentally, managing stress and protecting your peace! Spring is the best time to get started as it's the season for renewal! I couldn't agree more. Why not use the new season as a time to make some sanity saving switches like taking the stress out of mealtime?
More Self Care Tips for Moms
Ditch the Gym: Do 30 crunches before bed and when you wake up or do a quick 15 minutes jump rope sesh. I love the gym, but if you make your workout rules to strict, you're likely to take the fun out of being active!
Walk to Work: The weather is finally warming up. If your commute allows, why not ditch the subway and walk to work? Or if you can't, use some of your lunch out to get outside for a stroll. That big of sunshine and fresh air always helps me reset.
Cook a Homemade Meal: If you sign up for a Sun Basket subscription – you'll save time and still make delicious, healthy meals like turkey sliders with sweet potato "buns"! Yum! Beyond the taste, they had me at time saver. I'll always be a sucker for a timesaver!
Bubble Bath – Have a good soak in the tub with a drink of course - rose anyone? You don't have to ask me twice. My favorite way to end the day is with a relaxing soak! It's also the perfect place to practice mindful breathing.
Netflix n' Chill – Laughter is good for the soul so why not go on a movie watching binge! The hubs and I love to check in with each other after the ids go to bed. We talk about our day or any family business we need to take cae of, then we sit back and enjoy a show. 
Aromatherapy – Essential oils are an amazing to unwind and create a peaceful haven in your home. Use an essential oil to destress after a hard day's work. I love to use them in the morning for a little invigorating action too!
So, who else is ready to banish the guilt and indulge in a little me time. Frankly, don't even consider it an indulgence. Consider it an integral part of your day! And for if you need any more convincing, we shared 3 more reasons moms should practice self care recently.

We were not paid for this post. We did receive samples.