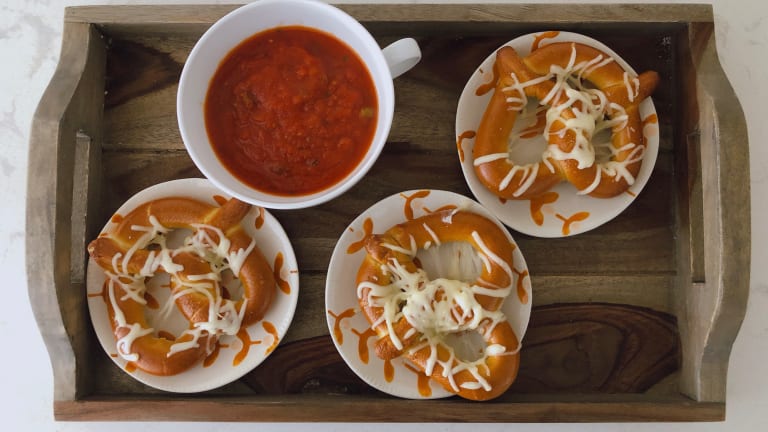 Do you love the crunchy, salty goodness of a pretzel? You are not alone my friend. We can't get enough of them here.  I've been working hard on my kitchen skills these days. But with homeschooling and trying to keep the directed on positive pursuits, I often need quick solutions for my family. That's where SUPERPRETZEL soft pretzels come in. These tasty treats can be ready in 4 minutes and are the perfect snack between activities or served with a tasty soup.
Did you know? April is National Soft Pretzel month.
Why We Love SUPERPRETZEL Soft Pretzels
While I know everyone has been baking up a storm, it's nice to have the folks at SUPERPRETZEL do the baking for me. The pretzels come frozen and come out of the oven soft and perfect.
SUPERPRETZEL is America's favorite frozen soft pretzel. I hope you'll join me in celebrating National Soft Pretzel Day (April 26) and whip up this tasty treat. It's perfect for a break from puzzling or crafting or a treat after a nice nature walk.
Pretzels Go with All Things Harry Potter 
We've been returning to the classics while social distancing. That means rewatching all 8 Harry Potter movies, doing Harry Potter puzzles and building the LEGO world of Harry Potter.
At our house, we've been LEGOing (is that a verb? Well, it should be) nonstop. Right now we have a HUGE Hogwarts we are working on to go with our celebrating of these classic films. I make this Cheesy SUPERPRETZEL with Marinara Dipping Sauce Recipe as a treat for the girls. When they are building, they aren't squabbling. Everyone's a winner. LEGO is an awesome unplugged way to create and I'm happy to fuel the fun with a quick and easy snack that makes this busy mom look like a hero.
Cheesy SUPERPRETZEL with Marinara Dipping Sauce Recipe
Marinara Dipping Sauce Ingredients
1 clove garlic minced
1 tsp EVOO
1 26 oz can chopped tomatoes
2 tablespoons roughly chopped parsley
½ teaspoon Italian seasoning
½ teaspoon salt
Cheesy SUPERPRETZEL Ingredients

Save Money at a Ski Swap
Are the slopes in your future? If you want to save money on ski gear, consider a ski swap. A swap is a great way to buy and sell used equipment. Most swaps consist of a variety of gear, from brand new to used skis and snowboards to skis; from poles to boots to bindings and ...read more
The Ten Best Wooden Play Kitchens For Kids
Cooking is a timeless fascination for children. This type of play goes beyond gender and teaches kids loads of life skills along the way. An investment in a play kitchen is money well spent, as it can provide hours of entertainment. We've rounded up the ten best wooden play ...read more
New Victory Announces a New Season of Shows
We know you're busy planning picnics and summer outings, but we wanted to let you know that The New Victory just announced their new season and it looks fantastic. We thought you'd like a sneak peek of what's in store! Each year the New Vic theater brings culture to tourists and ...read more
4 SUPERPRETZEL soft pretzels
½ cup Shredded Mozzarella cheese
Marinara Dipping Sauce Directions
Heat Evoo to medium, add garlic. Cook until browned.
Add tomato sauce
Add seasoning and parsley
Simmer for 10 minutes
Cheesy Super Pretzel Directions:
While the marinara dipping sauce is simmering, it's time to get the pretzels ready.
Preheat oven to 400
Line a cookie sheet with tin foil
Place SUPERPRETZEL pretzels on cookie sheet and sprinkle with mozzarella cheese
Cook for 4 minutes.
Serve pretzels with warm dipping sauce and enjoy.
Don't forget, on April 26th you can celebrate everything pretzels with  SUPERPRETZEL for National Pretzel Day. 
Get more information on where to find SUPERPRETZEL soft pretzels here.
MORE FOODIE FUN FROM MOMTRENDS
PIN IT!
Use Pinterest to save your favorite recipes ideas. Be sure to follow our Recipes to Inspire Board here.
This is a sponsored post.