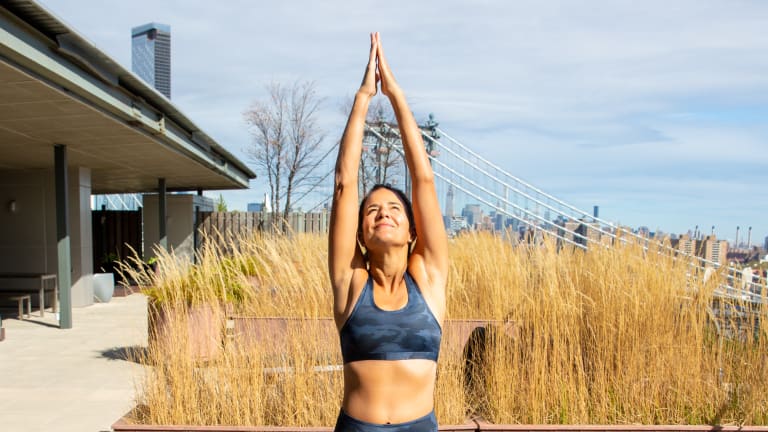 Easy Poses from Momtrends Yoga Series
Got a sore back? It's a common thing with moms, we carry a lot of weight. These easy poses from Momtrends can help give you some relief.
Check out this simple yoga series that offers sweet relief for the dreaded mommy hip. This phenomenon occurs from balancing a child on one's hip for hours on end. For me, I would prop a babe on my hip to work on dinner, make a phone call or navigate the subway stairs. No matter the cause, toting a child on your hip can lead to an imbalance in your hip and lower back pain. I want to share some tips for fitting yoga into your mom life. Start here: get a 30-day FREE trial of Bulldog Yoga online.
Related: 5 ways to put a positive spin on back to school
Watch the Video for some Easy Yoga Poses to Start
In addition to Bulldog Yoga Online, you can also find YouTube videos for complete practices and also mini sessions to focus on an area of stress. We worked with Mala Yoga in Brooklyn to come up with easy yoga poses for new moms and anyone looking for relief from an over-scheduled life. Give this a try:
More Yoga Scoop for you
Ready to add more yoga into your life? 
Who needs it?
Moms that balance a small (or large) child on their hip.
Anyone who needs to stretch and strengthen the lower back.
What you need?

A good yoga mat is all you need. We like the TOPLUS Yoga Mat. It's got a non-slip surface and is perfect for your budding yoga practice. 
MORE YOGA FROM MOMTRENDS
PIN IT!
Use Pinterest to save your favorite ideas from Momtrends. Be sure to follow our Fitness and health board here.
This is a 5-part sponsored series. All moms should check in with thier doctors before taking on a new exercise program. Be smart and listen to your body.