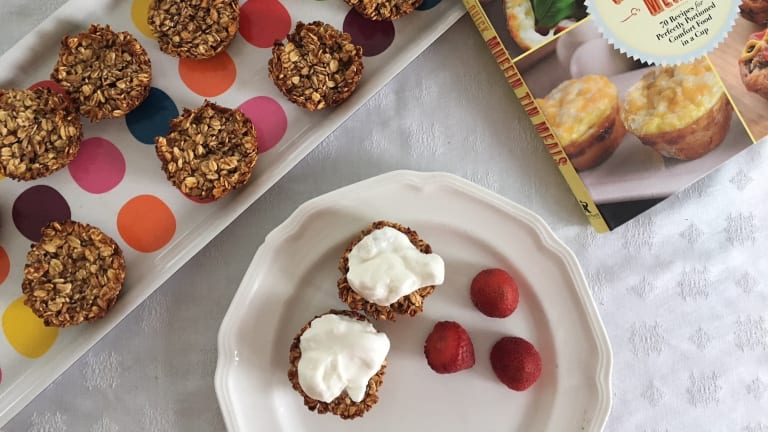 Easy Muffin Tin Meals
Portion sized make-ahead meals
New trend alert! Yes, it is a new year but just because the calendar starts us off with the proverbial clean slate, my logged meal making hours beg to differ. I needed to change it up a bit in the kitchen. I want to provide healthy meals for my family, but I don't want to spend hours in the kitchen. I hopped on the latest trend of easy, meal planning by using the idea of "Muffin-Tin Meals". Using your muffin tin, you can create easy, portion-sized meals that work well as a make ahead option so you don't feel like you're struggling when you want to put a healthy meal on the table, but don't have it in you to whip it up! It all started with these easy, muffin tin frittatas (we subbed turkey for the bacon) and I got hooked from there. 
Muffin-Tin meals are ideal for busy families, those that want an easy way to keep their portions in check, and they're great for on-the-go meals. Just make ahead, freeze and pop 'em in the lunch tote and you've got an easy, breezy home-cooked meal. Most of the meals I prepare take less than 20 minutes to prep and cook, not bad for a home-cooked meal. I use the Muffin Tin idea for breakfast, lunch and dinner meal ideas, but have recently made these granola-like snacks and my kiddos are hooked too. I love that I can have a healthy alternative to the sugar-laden granola bars they gravitate toward. I get a lot of inspiration from the book entitled Super-Quick Muffin Tin Meals by Melanie LaDue. 
That's where I pulled the recipe for the yummy granola bites. To give this trend a go, try an easy to make, easy to bake recipe like this one and I am sure you'll be as hooked as I am !
Granola Bites
MAKES 12 granola bites (or you can use a mini muffin tin and make 24 bites)
PREP TIME: 20 minutes (took me 10 minutes or less and the kiddos helped!)
1 banana (ripe)
2 cups oatmeal (I used a quick oats blend and it worked just fine, I shortened the cooking time by a few minutes)
1/4 applesauce (I used unsweetened)
2 Tablespoons honey
1/2 teaspoon vanilla
1/2 teaspoon cinnamon
1/8 teaspoon nutmeg
1/8 teaspoon ginger
I topped with Greek Yogurt-check out why it is my go-to superfood for weight loss.
Preheat the oven to 350 degrees. Spray your muffin tin with cooking spray (I choose to use coconut oil spray)
Put banana in a bowl and mash well. Add remaining ingredients to the bowl and stir well  until all the ingredients are incorporated. HINT: I use a flour sifter for all the spices so that I get a nice even flavor. Press 1 tablespoon (I often use my ice cream scoop when I am cooking Muffin Tin Meals--it helps get the portions evenly distributed without using your fingers) of mixture into each muffin cup. Bake 20-25 minutes (check after 18 minutes) until toothpick comes out clean.
Use a mini knife or spatula to gently lift the bites and place onto a wire rack to cool. Dab a topping on or eat 'em straight up. They make a great take-along snack, after school snack or breakfast on the go. 
Enjoy! Try the Muffin Tin Trend and circle back and let us know how much you love it, or share your quick and easy Muffin Tin Recipe.
We were not compensated for this post. All opinions expressed are our own. Recipe adapted from Super-Quick Muffin Tin Meals by Melanie LaDue.