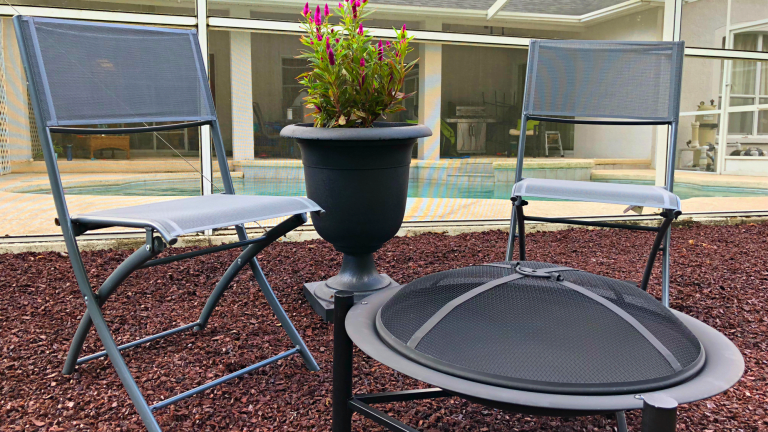 Easy Budget Friendly Fire Pit Ideas
If you've been wanting to set up an outdoor fire pit area in your backyard, but don't want to spend a lot of time or money, our easy budget friendly fire pit ideas can help!
Have you always wanted a nice fire pit setup, but haven't gotten around to putting one together? Well, never fear. I'm going to share some easy, budget friendly fire pit ideas with you today! Fall's cooler temps will be here before you  know it, so let's get ready now shall we? I actually shopped my garage for the pieces I used in my fireplace setup, but I am also including links to lookalikes that you can buy now! Because I know I'm not the only girl who dreams about having a more relaxing outdoor space.
Related: Five tips to creating a budget-friendly outdoor space
You see, last year we moved into a bit of a fixer upper. Don't get me wrong, our new home has amazing bones and we're beyond thrilled with the neighborhood, schools etc. We just have a LOT of projects on the books to make the house fit our family and the yard is last in line. That being said, although we weren't ready to invest serious money into the outside, we did want to do a few things that would offer at least some impact and one of those things was new mulch.
Fire Pit Ideas
We ended up going with rubber mulch because it lasts so much longer than regular mulch. Here in Florida with all the rain we get, mulch can take quite a beating and it doesn't take long for it to lose that fresh look. Would you rather have mulch that lasts little more than a season or mulch that you can rely on for the better part of a decade? That's a no brainer right?! We found ours at rubbermulch.com and, let me tell, laying that down alone made such a difference in our backyard!

After that was done we really wanted to create a little sitting area facing our conservation area view. So, I shopped my garage and brought out the fire pit we got a couple years ago, but hadn't even taken out of the box. Bwah! Next, I added a couple of spare bistro chairs that I picked up on clearance a while back to use as extra seating at parties. The final finishing touch was a planter that I planted some fresh blooms in. The whole thing took barely any time to put together and, until we get that paver deck built that we've been dreaming about, our new fire pit setup is a great way to enjoy our newly mulched outdoor area!
Easy Fire Pit Setup
fresh mulch
at least a couple of bistro chair
planter filled with cheerful flowers
Now, that you've seen my easy budget friendly fire pit ideas, to see more ways to jazz up your outdoor area, check out this front yard revamp!
MORE DESIGN TIPS FROM MOMTRENDS
PIN IT!
Need more ideas on what to do with the kids? Be sure to follow our Home-Style Inspiration board on Pinterest here.
We were not paid for this post. A sample was provided and it does contain affiliate links.