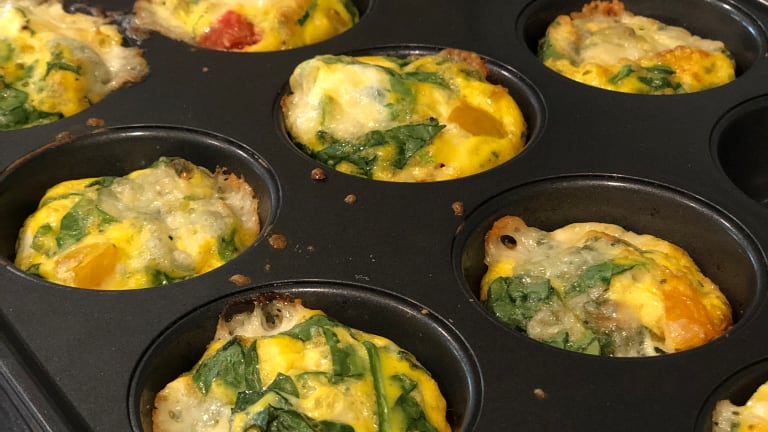 Easy Breakfast Recipe Scrambled Egg Cups
Personalize this easy baked egg dish with your favorite things to spice up your family breakfast.
This easy egg recipe was born out of the quarantine. On weekends we try to make things a little more festive and fun. That means breaking out some new recipes and savoring the slower pace of this new normal.
Related: The best overnight French toast recipe
Easy Breakfast Recipe Scrambled Egg Cups
This recipe makes the most of the eggs we always have on hand and the vegetables that we love. It's a great way to get in some extra greens on weekends. It's all a balance, we serve this with croissants and bacon, so don't think it's all healthy.
Easy Breakfast Recipe Scrambled Egg Cups Ingredients
8 eggs (we love Nellie's free range)
1/2 cup 2% or whole milk
Sale & Pepper to taste
1/2 cup shredded cheese (we used Cabot cheddar seriously sharp)
Fresh herbs (I used tarragon, but chives are also great)
1/4 cup of chopped tomatoes
1 cup spinach cut into ribbons
Feel free to customize the ingredients to suit your family. Keep the egg/milk ratio the same and just add in what you like. Some alternative ideas include: cooked bacon or ham, scallions, broccoli, and peppers.
Since we ran out of shredded cheddar, we cubed up some from our big block of Cabot cheddar.
Easy Breakfast Recipe Scrambled Egg Cups Directions
Preheat oven to 375
Crack eggs and add to a bowl with milk. Whisk until blended and fluffy.
Add in salt and pepper
Mix in vegetables and sprinkle in fresh herbs.
Spread mixture equally into the cups of a non-stick muffin tin.
Sprinkle cheese amongst the 12 tins.
Bake for 20 minutes.
Pop the eggs out and serve with fresh greens and your favorite toast.
You can also make this recipe a double and pop some of them into a storage container for easy grab and go morning meals. You can add one of these to an English muffin for a fast breakfast before homeschool.
MORE FOOD IDEAS FROM MOMTRENDS
Need more meal inspo for your family?
PIN IT!
Use Pinterest to save your favorite recipes. Be sure to follow our Healthy Eats board
Momtrends was not paid for this post. We received complimentary tickets and brunch