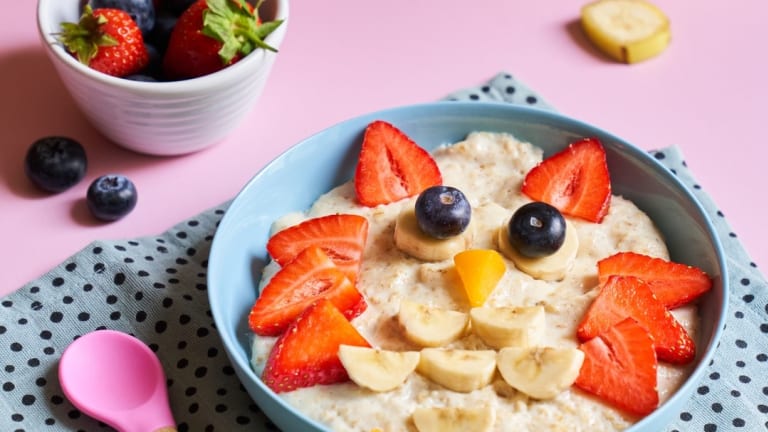 Easy and Yummy Owl Porridge
This easy and yummy owl porridge recipe dresses up a hearty breakfast favorite.
With the arrival of winter, a warm breakfast helps my kids start the day off with a lot less grumbling. Cold, dark January mornings seem less daunting when breakfast is received with a smile. That's where hot cereal comes in. Porridge is made from grains. You can use oats, corn, rice. Then you prep it with boiled water or milk until it has a creamy, thick consistency. It's also sometimes called "hot cereal" and it's the ideal breakfast when a chill is in the air. This easy and yummy owl porridge recipe dresses up a hearty breakfast favorite and your kids will love it.
Related: 7 make ahead school morning breakfasts that are portable
Easy and Yummy Owl Porridge
We've got an easy and tasty porridge recipe from author Annabel Karmel. She's got a new cookbook out and was kind enough to share a breakfast idea your kids are going to love. Have a hoot making this wise little owl. A warm bowl of porridge is the perfect way to start the day and it will keep you feeling full all morning. 
Owl Porridge Ingredients
Serves 1, Vegan, Veggie, Egg-free
1/2 cup porridge oats
1 cup milk of choice
1 small banana, mashed
½ tsp vanilla extract
2 tsp unsweetened desiccated coconut (optional)
Decorations
4 strawberries, sliced
½ banana, sliced
2 blueberries
½ mango, sliced
Owl Porridge Directions
Measure the oats and milk into a saucepan. Place over a medium heat and bring to the boil, stirring all the time.
Add the banana, vanilla extract and coconut, if using, and continue to stir until the porridge has thickened and the oats are soft. This should take about 5 minutes.
Spoon into a bowl and use the fruit to decorate the top.
Why not try this? To make the owl use strawberries for wings, banana slices for the eyes and body, blueberries for the eyeballs and mango for the nose, eyebrows and feet.
Fun, Fast & Easy Cookbook
Annabel Karmel is a working mom who knows the importance of healthy eating. Her passion for cooking with her own kids as they were growing up inspired her most recent book, Fun, Fast & Easy - a practical cookbook filled with fun, tasty recipes and tips to inspire young children to develop a love of cooking and healthy eating to last a lifetime!
Get the Fun, Fast and Easy Children's Cookbook here (note: this is an Amazon Affiliate link)
Find out more about Annabel's recipes and ideas on her website www.annabelkarmel.com
MORE BREAKFAST IDEAS FROM MOMTRENDS
PIN IT!
Use Pinterest to save your favorite recipes. Be sure to follow our Kid Food Pinterest board here.
Momtrends was not paid for this post. (Note: this article has Amazon Affiliate links)