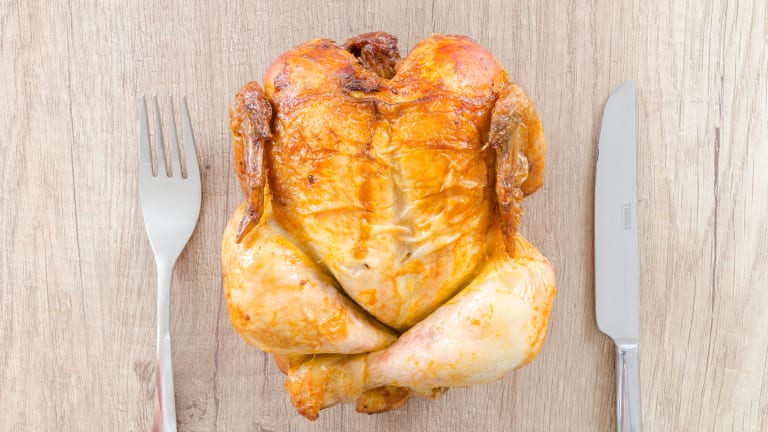 Easy and Quick Meals to Make With (Store-Bought) Rotisserie Chicken
... Because the Protein Is Already Cooked for You!
Weeknight dinners are a blur around here. Between work schedules, school commitments, and extra-curricular activities, it's a wonder I get anything on the table, let alone a hearty, healthy, and delicious dish. But I'm a savvy mama with a few fancy tricks up my sleeve to help ease the burden of cooking and cleaning and serving my pack of hungry animals. Yep, I'm the master of making that daunting PM meal a breeze (and, yes, sometimes that means a cereal brinner). 
Simple crockpot recipes and all-in-one foil-packet dinners are on regular rotation around here, and I'm a instant fan of any dinner with the words quick, convenient, and mess-free. So if it entails less plates, less pots, less pans, and less prep, count me in!
One of my other "almost-homemade hacks" that saves time, money, and effort in the evening: using store-bought rotisserie chicken. I'll generally go to Costco on a Monday morning (right after my Trader Joe's trip!), and pick up two of their insanely delicious $4 (YES, $4!!!!) roasted chickens. We'll eat one that night with simple sides: sweet potatoes, green veggies, salad, rice... you get the idea. The other chicken will be refrigerated for use in recipes later in the week. I'll pull some chicken and add to lunch salads, sandwiches, soups, tacos, casseroles, you name it. 
But you don't have to stop there. You can create all sort of meals with store-bought rotisserie chicken. It saves you the work of actually cooking your protein and you can whip up a delicious meals for the family in no time.
Chicken Alfredo Baked Ziti via Gimme Some Oven
Veggie-Loaded Rotisserie Chicken Casserole via Project Meal Plan
Rotisserie Chicken Enchiladas via The Suburban Soapbox
Bubble-Up Chicken Pot Pie via Recipe Diaries
Cornbread Chicken Taco Bake via Six Sisters Stuff
Chicken and Rice Soup via The Adventure Bite 
Rotisserie Street Chicken Tacos via Nerdy Mamma
White Chicken Chili via Plain Chicken
Chicken-Stuffed Peppers via Katie's Cucina
Shredded Chicken Parmesan Sandwich via Yellow Bliss Road
MORE FOOD IDEAS FROM MOMTRENDS
PIN IT!
Be sure to to follow our Recipes to Inspire board here.
This is not a sponsored post.