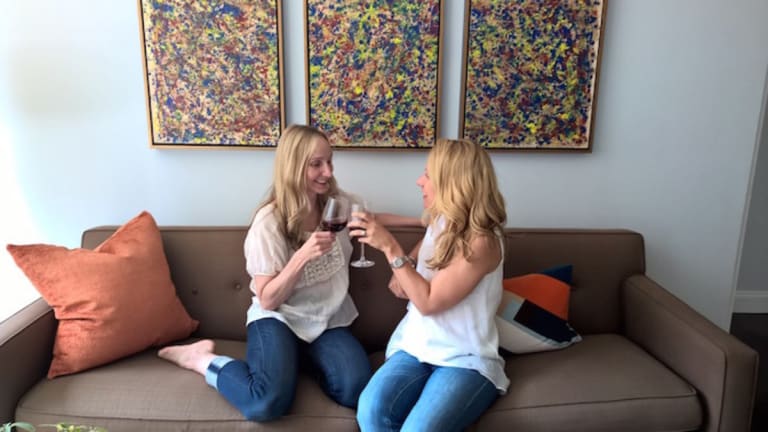 Easy and Pretty Wine and Cheese Tabletop Setup
Check out our Easy and pretty ideas to make a festive tabletop to invite your girlfriends over for a night or wine and cheese.
Girlfriends are something to celebrate. These past few weeks have been insanely busy, but my girls have my back. We're in this crazy business of working and parenting together. What's a better way to celebrate friendship than to gather your girls for a night of wine and nibbles!
Related: Our top 4 Affordable Wines at Trader Joe's
My party theme was so easy to execute. One stop at my local market for flowers and nibbles and wine and I was done. Total prep time was under an hour--with shopping. I'll walk you through it.
What are we pouring? Skinnygirl® Wine.There are eight great-tasting, low-cal options for you to pour. I picked the Pinot Noir and the Pinot Grigio for our night in.
Setting up a Wine and Cheese Tablescape
To prep for my ladies coming over, I set a fun tablescape. Nothing too fancy--I picked a few special cheeses and then filled in with fruits and veggies--I just dressed the table up a bit to make it look fancier.
When it comes to menu, I try to keep that light too. To cut back on carbs, I switched the normal crackers and bread for celery and apples. Still tasty and crunchy, but a lot healthier. You're welcome friends.
For summer nights the crisp Pinot Grigio is the perfect pour and paired nicely with firm Padano cheese. The salty cheese and the clean taste of the wine worked well.
I had a red ready too. Pinot Noir is a crowd please. The versatile red pairs very well with a wide range of cheeses to include goat cheese like the chevre I had out. The girls said the wine had a subtle oak flavor and light fruits. And the ladies loved that Skinnygirl® Pinot Noir has just 100 calories per serving.
Serving Cheese with Wine
You'll want to get at least three cheeses to pick from. For the cheese, get a mix of soft and hard cheese (try to mix in some goat and sheep if you can). Make it easy on your guests and label them. I used a metallic Sharpie to label the ceramic cheese labels. The Sharpie washes off the ceramic labels with warm water and a brillo pad.
For more tips on creating a cool cheese board, head here.
DIY Cork Centerpiece
All those corks I'd saved from bottles past came in handy. I used them as simple centerpiece. I filled a few glasses with the corks and topped with a few grapes. To add a tiered look, I used some simple brown, unmarked boxes from the craft store.
A little bit of slicing and I was done. All I needed to do was start pouring the wine and start my playlist. Don't wait for a big event, call your friends and celebrate the everyday with this fun party idea. 
MORE FRUGAL AND FUN FOOD AND WINE IDEAS FROM MOMTRENDS
PIN IT!
Looking for more food ideas? Check out the Momtrends Recipe Board on Pinterest!
Please drink responsibly! Skinnygirl® Wine Collection ©2015 Skinnygirl Cocktails, Deerfield, IL (Per 5 oz – Average Analysis: Calories 100, Carbohydrates 5g, Protein 0g, Fat 0g). This is not a sponsored post.