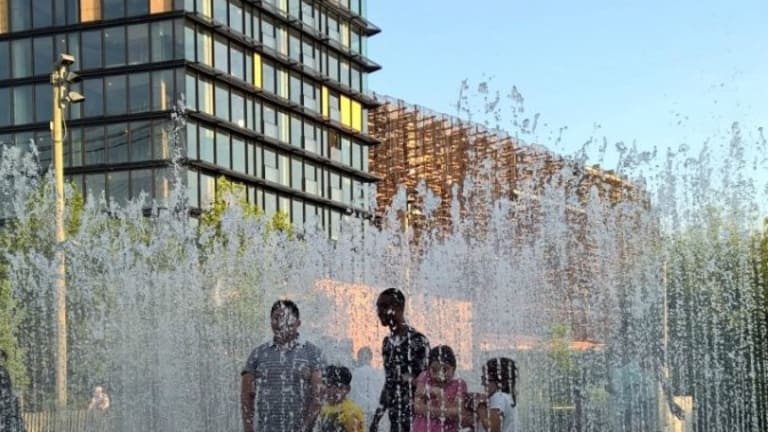 Don't Miss the Awesome Parts of Summer
Make time for these five iconic summer activities for your kids before summer passes you by.


Wet, silly, and spontaneous--that's what our summer looks like. From picking strawberries and getting sticky to running in mud puddles, fun doesn't come in a tidy package. 
Related: Host an outdoor movie night
Hello summer! It's a time to cut loose from the schedule and shake things up. Play doesn't have to be purposeful or organized. In fact, the less structured the better. From pick-up games of kickball to catching fireflies, I embrace the chaos of not knowing what's next.
Six Things To Experience this Summer
Running through a sprinkler. Our a fountain. We aren't picky. Bonus points if it wasn't planned and you don't have a swimsuit on! 
Participate in highly unorganized sports. The fewer rules the better. We're thinking of games like H.O.R.S.E., hopscotch, and Marco Polo. The classics that don't require a coach or a full team.
Throw the schedule out the window. Summer is about making a meal of fresh picked berries--and eating them with your fingers. It's about staying up past bedtimes and it's about remembering what it feels like to be a kid. Skinned knees from falling on the playground. Bug bites from exploring at dusk. Catching frogs in a nearby streams. Summer's a little messy. The sweet freedom of free time!
Build Something. Pillow forts count and so do tree forts. It's all about the process of creating something from nothing. 
Clothing Optional. Skip the dress code and opt for a day in a swimsuit or PJs. You pick. Summer is about putting on whatever you want to wear--even if it's the same dress four days in a row. I make rules the other nine months of the year. 
Messy creative time. From baked mud pies to chalk art, let your kids color outside the lines this summer. 
We spend much of the school year with a tight schedule. It looks something like this: breakfast, school, homework, dinner, bed. Repeat. 
Before you know it, we'll be back in school and back in the routine and we'll miss these unstructured days. Why not take advantage fo them now.
Let the summer slide begin. Summer can also mean more sibling squabbles (hey, they have more time together) and more complaints of "I'm bored." No one said freedom wasn't a little messy. When the kids make the inevitable claim to be bored, pull one of these classics out before summer is over. 
MORE KID-CENTRIC FUN FROM MOMTRENDS
PIN IT!
Need more ideas on what to do with the kids? Be sure to follow our Activities to Do with the Kids board on Pinterest here.
This is not a sponsored post.