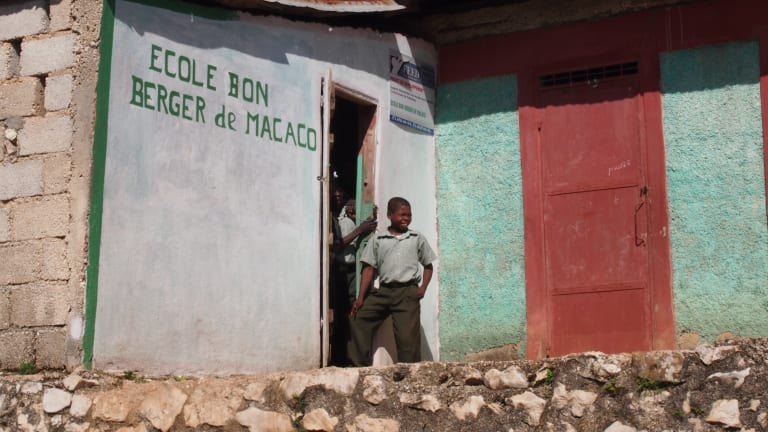 Donation Ideas for Haiti
Ideas on how to support the Haitian community with donations for earthquake recovery.
I know we are all a little overwhelmed by what is happening in the world. I'm heartbroken with all that our world's children are facing. I'm gathering resources and making donations and sharing ideas I have for Haitian relief efforts. Please feel free to let me know about additional ideas.
Read about my 2012 visit to Haiti here.
The Current Situation in Haiti 
Here's what we know: Haiti was struck by a 7.2-magnitude earthquake this past weekend that destroyed homes and has killed more than 2,000 people. In addition, thousands more are injured and homeless. This earthquake was even more powerful than the 2010 earthquake that devastated the country. I paid a visit in 2012 to help bring aid to Haitian school children, and I can attest that the country does not have strong infrastructure. I'm adding photos from my 2012 trip so you can see the beautiful children who need our help.
Right now, finding trusted places to give is tricky. The Haitian president was murdered last month and to make matters worse, Haiti was pummeled by a tropical storm. Things are desperate. 
UNICEF
The agency is among the most widespread and recognizable social welfare organizations in the world, with a presence in 192 countries and territories. UNICEF is working with its partners in Haiti to assist children and families in need. They have sent more than 30,000 medical kits with more health, water, and sanitation supplies on the way.
PARTNERS IN HEALTH
One of the things I learned on my visit is to donate to organizations that have roots in the country experiencing catastrophes. Partners in Health has been working with Haiti's Ministry of Public Health for decades. 
Partners In Health is a Boston-based nonprofit health care organization founded in 1987 by Paul Farmer, Ophelia Dahl, Thomas J. White, Todd McCormack, and Jim Yong Kim. They are the largest non-governmental healthcare provider in Haiti, PIH immediately began organizing staff and supplies to respond. 
Donate now to provide lifesaving care.
Hope for Haiti
Hope For Haiti works to reduce poverty in the country, emphasizing education, health care, and economic opportunities to help its mission. They have an infirmary in St. Etienne  to provide wound care and other essential services like clean water to members of the community. Through donations, the organization is hoping to support short-term and long-term relief efforts, including supplying medical supplies and distributing home water-filtration systems.
Hope for Haiti is a non-profit organization based in Naples, Florida, USA, founded in 1990 by JoAnne Kuehner. 
Doctors Without Borders
Also known as Medecins Sans Frontieres, or MSF, in French has been working in Haiti for years. They are responding to the emergency in the cities of Port-Salut, Les Cayes, and Jérémie, assessing the needs in other areas, and preparing to send in additional medical equipment, essential items, and medical teams to help care for the injured. "Our current priorities are, above all else, to get a precise idea of the medical situation, to provide direct care to the injured when we can, or to refer them to functional medical structures once we ensure they are stabilized," says Alessandra Giudiceandrea, head of mission for MSF in Haiti. 
Donate here www.doctorswithoutborders.org/what-we-do/news-stories/news/haiti-earthquake-msf-responds-urgent-medical-needs
Donating Goods
CNN's "Impact Your World" has compiled a list of organizations accepting donations for Haiti.
Have Questions?
There has been blowback from the last disaster that the Red Cross left $500 unaccounted for (A 2015 investigation by NPR and ProPublica, five years after another devastating earthquake in Haiti, tried to find where its nearly $500 million in donations went and found "a string of poorly managed projects, questionable spending and dubious claims of success."). I advise you to research before you donate. 
Consult websites like Charity Navigator and GiveWell to determine charities' legitimacy.
That's it for now, I'm open to other suggestions. Be safe friends and if you can, open your heart for prayers and your wallet for donations.
More Charity Features from Momtrends
Pin it!
Use Pinterest to save your favorite posts. Be sure to follow our Intentional Motherhood board for more ideas about giving back and self care.
Momtrends was not paid for this post