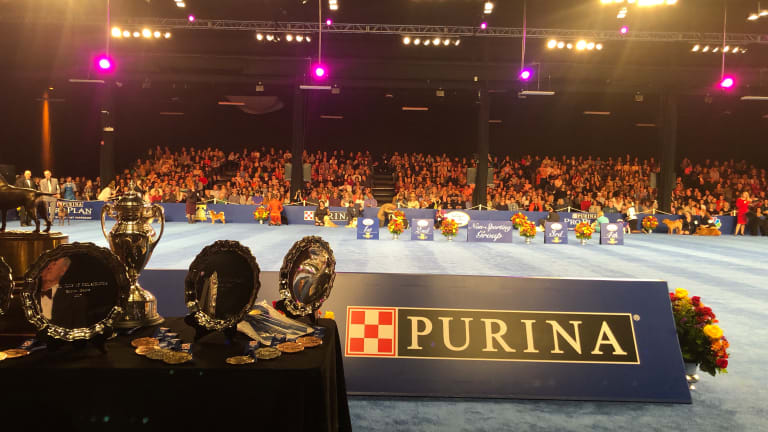 I'm a dog person—always have been always will be. I remember begging my parents to get me a puppy, for years, as a kid. When they didn't come through, I turned to Santa… and then the Easter Bunny… and then the Tooth Fairy. Alas, after years and months and days of crying and pleading and promising, we found Ling-Ling, a beautiful shih Tzu with long soft hair and the most endearingly warm eyes. It was puppy love at first sight.
After Ling-Ling, there was Brandi, the world's kindest Cairn terrier and Duke, the slobbery but sweet bulldog. Brandi passed about a year ago, and Duke, just a few months ago. It was hard on me and my parents and my siblings and my children who came to know and love these animals so dearly, but I think it may have been the hardest on Reese, our 10-year-old toy poodle. Quite suddenly, her playmates, her best friends, and her siblings were gone. She definitely lost a pep in her step for a while, and I don't doubt that she honestly understand why and how her world had been totally turned upside down.
But she's a tough one that poodle of mine, and she managed to rally for our sake—supplying extra affection to the people she loves so fully.
This year, I'm thankful for Reese's health and happiness—for the way she brings the whole family together; for the way she gently kisses the noses of my babies. For the way she still acts like a puppy when she's excited.
Dog people are always thankful for the furry besties that bring them joy and peace. And that's why I'm so happy to spread the word about Purina's new #DogThanking program. In celebration of Thanksgiving and the National Dog Show, Purina is encouraging pet owners across the nation to share what makes their pet the best, using #DogThanking and tagging @Purina.
Now through Nov. 26, for every unique tagged post shared on Facebook, Twitter or Instagram, Purina will donate $1 (up to $50,000) to GreaterGood.org, an organization that helps provide relief for people and pets in areas affected by hurricanes and other natural disasters, including Florida, Texas and Puerto Rico.
Funds raised from the #DogThanking initiative will help Purina continue working with its partners to support the logistics of delivering high-quality food and supplies to pets impacted by natural disasters.
This past weekend, Momtrends was invited to spend the day at The National Dog Show Presented by Purina, and besides admiring all the gorgeous animals, seeing well-mannered pups prance and jump and compete, and petting adorable fluffy toy breeds—I have to say I most enjoyed my time talking to owners, handlers, and spectators about what they're grateful for this season… I know I'm thankful I got to witness pure love between so many owners and their pets. Dog-show people are passionate about their animals, and it certainly shows. Here are a few of their stories:
"He's the love of my life number one. [I'm thankful,] he's done some winning this year—and to be here and be able to exhibit him and see the breed and love them as much as I do." –Ellen Parken, Pomeranian Breeder/Owner/Handler
"I'm thankful for having healthy golden retrievers and for all my puppies. I have some owners with me today and everyone loves their puppies."—Golden Retriever Breeder
"Its been a very busy hurricane season and we were impacted by Irma. On the Monday before the storm we made a decision to evacuate our shelter—we have 160 animals in our care—so it makes sense to get your animals out of harms way. Through the generosity and greater good of Purina, we were able to team up with another organization, and within 24 hours, the animals were loaded on a plane and safely placed. Just as soon as we were able to finish that evacuation, we were able to open up our pet friendly shelter for pets and their families. We opened, and over the course of four days, we housed over 300 animals." –Christopher Agostino, President & CEO of Humane Society of Broward County
"We had pre-registered for the pet friendly shelter sponsored by the humane society of our county so when it came to time evacuate, we secured our home and we were able to leave go to the pet friendly shelter and we stayed there for four nights, so about 96 hours. We were so grateful to be able to go there knowing our dog, Charlotte, would be well taken care of. We were so relieved that we had a place to go."
"They took wonderful care of us [at the pet-friendly shelter] during a really stressful time—this was the worst storm anyone had seen in 100 years. Giving the animals a safe shelter and allowing us to join them, we're very thankful to the Humane Society." –Russ Chard, Dog Owner
Did you watch the 16 annual National Dog Show Presented by Purina today? It was so fun to get a behind the scenes glimpse, and then watch Newton, the spunky Brussels Griffon take home the title of Best in Show. (I bet his owner is doing a lot of #DogThanking—and loving!—today.)