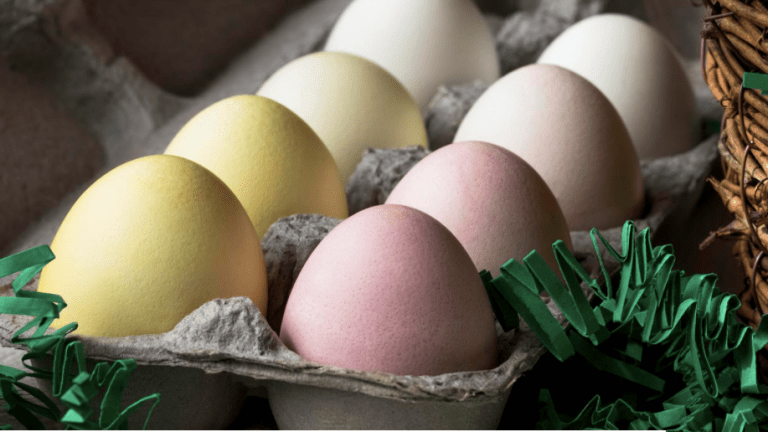 We got inspired by Pinterest to create this DIY ombre egg centerpiece for Easter.  It's a simple project that won't involve a lot of time or money and you've likely got all the tools you need to embark on this craft without having to head to the craft store or grocery store.
Related: Easy Centerpieces for your Easter Table
DIY Make an Easter Egg Centerpiece Video
Follow along with the quick and easy DIY video to create something special for your table this Easter. 
Momtrends' channel is all about providing fashion and style inspiration to moms. From the trendiest fashions to the coolest gear to beauty trends, we want you to feel fabulous every day. Subscribe to our channel so you don't miss a single trend.
Using McCormick Food Colors to Create Ombre Eggs
Instead of the normal colored pellets that you get in kits, you can also use food coloring. This recipe for pink eggs is from McCormick. 
The only materials you'll need are food dye and vinegar.
Bring 1/2- to 1-inch of water to boil in large saucepan on high heat. Carefully add eggs into boiling water using a large spoon or tongs. Cover. Cook 12 minutes for large eggs. (Adjust time up or down by 1 minute for each size larger or smaller.)
Pour off hot water immediately and rapidly cool eggs by running them under cold water (or place in ice water) until completely cooled. (If not coloring eggs immediately, refrigerate eggs after they are completely cool.)
Pink Ombre Colors: Light Pink: Add 1/4 teaspoon Berry color from McCormick® Nature's Inspiration™ Food Colors. Medium Pink: Add 1/2 teaspoon Berry color from McCormick® Nature's Inspiration™ Food Colors. Dark Pink: Add 1 teaspoon Berry color from McCormick® Nature's Inspiration™ Food Colors.
Prepare each of the ombre colors below so that each egg is a different color. For each color, mix 1 cup warm water and 2 teaspoons white vinegar in small bowl or liquid measuring cup. 
Stir ombre color shade amount into the water until dissolved. 
Dip 1 hard-cooked egg into the colored water for about 5 minutes, turning egg occasionally until egg is the desired shade. (Use a slotted spoon, wire egg holder or tongs to add and remove eggs from dye.) Repeat for each egg and color. Allow eggs to dry.
5 More Easter Ombre ideas
ohhappyday.com Ombre Easter Egg Centerpiece
www.lilyardor.com Ombre Easter Centerpiece
feltandhoney.com  Easter Centerpiece Coral Ombre Eggs
sugarandcharm.com  DIY Ombre Easter Eggs
MORE EASTER IDEAS FROM MOMTRENDS
PIN IT!
Use Pinterest to save your favorite entertaining ideas. Be sure to follow our Easter Pinterest board here.
This is not a sponsored post.