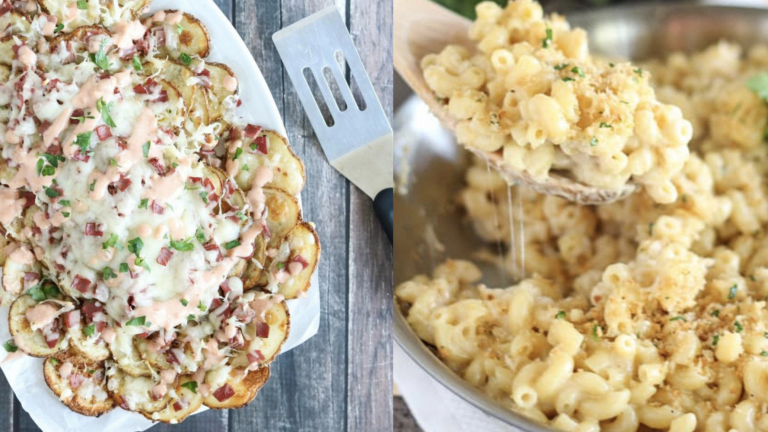 I don't have any Irish blood in me, but my kids do. They're mutts, but as far as I'm concerned on St. Patrick's Day, they'll rock Kiss Me, I'm Irish green tees and eat all the gold coins and dyed pancakes and Shamrock Shakes. As for me? You can find me, gorging on my mom's famous corned beef and cabbage and drinking a Guinness--never mind the fact that I'm 38 weeks pregnant, Mama needs a sip of stout! (Mother's milk, right?!)
Next Read: Unique Twists on Corned Beef and Cabbage
I'm such a fan of the rich, stewy deliciousness that makes up the classic menu of St. Paddy's Day staples. Heavy on the meat and the potatoes and the bread and the beer?! What's not to like? 
I've rounded up a few delicious recipes to try as we approach this most festive and fun celebration--next Sunday (and my mouth is already watering)! Cheers to good food and a good Irish tradition.
1. First we're sharing our Irish Soda Bread Muffins recipe. 
It takes the traditional Irish Soda bread out of the cast iron or loaf pan and into a muffin tin. This is the perfect recipe for a delicious Irish breakfast with some butter and jam or with your corned beef and cabbage.
Here are 7 more delicious St. Paddy's Day Recipes
2. Irish Soda Bread via Saving Dollars and Sense

The Ten Best Wooden Play Kitchens For Kids
Cooking is a timeless fascination for children. This type of play goes beyond gender and teaches kids loads of life skills along the way. An investment in a play kitchen is money well spent, as it can provide hours of entertainment. We've rounded up the ten best wooden play ...read more
New Victory Announces a New Season of Shows
We know you're busy planning picnics and summer outings, but we wanted to let you know that The New Victory just announced their new season and it looks fantastic. We thought you'd like a sneak peek of what's in store! Each year the New Vic theater brings culture to tourists and ...read more
Fun Ways to Discover Venice Italy with Your Family
Greetings from Italy wear the gelato is rich, the clothes divine and the scenery is inspiring. Now that I've been to this fine city in the north of Italy, twice, I've amassed a list of favorites to share. These are some fun ways to discover Venice, Italy with your family. ...read more
3. Guinness Irish Cheddar Mac and Cheese via Celebrating Sweets
4. Irish Beef and Guinness Stew via Recipe Tin
5. Guinness Bread via Frugal Coupon Living
6. Reuben-Topped Irish Nachos via Two Healthy Kitchens
MORE ST. PATRICK'S DAY FROM MOMTRENDS
PIN IT!
Use Pinterest to save your favorite crafts, menus and parties for St. Patrick's Day here on the Momtrends St. Patrick's Day Board.
This is not a sponsored post.