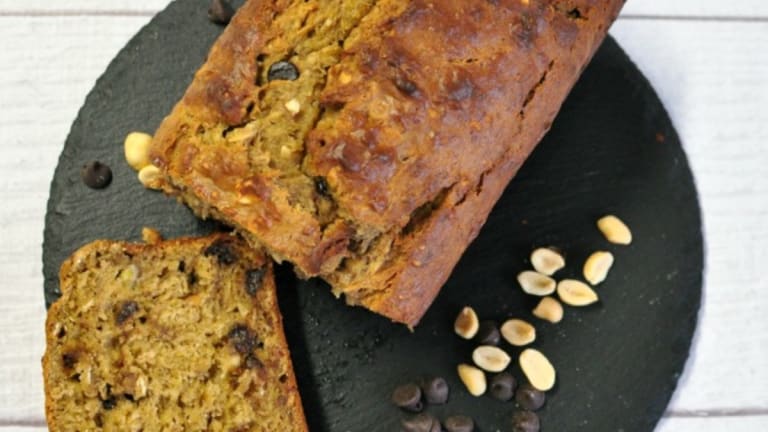 For the past several weeks I've been making a serious effort to eat (and snack) better. And, I'll be honest: anything is an improvement over handfuls of jelly beans and half a bag of chips, which is my old go-to. I'm mixing things up with this delicious loaded banana bread recipe.
Related: Crockpot stuffed apple French toast recipe
Getting a Perfect Recipe for Banana Bread
As part of the effort, I recently made No Bake Energy Bites for the first time. This meant I had to purchase a little ingredient called "flax seed". Now, I don't live under a rock, so I've heard of flax and I know it's supposed to be good for us, but I admit it was the first time the stuff has (knowingly) entered our house.
Much to my surprise, I LOVE the Energy Bites. It's true, they're pretty delicious. And, bonus: my whole family loves them, too. So when I was eyeing the ripe bananas begging to be made into banana bread, a little light bulb went off. Why don't I try to incorporate some of the nutritional ingredients into banana bread for a healthier dessert and snack?
I used this Peanut Butter Banana Bread Recipe by Joy the Baker and made some additions and adjustments.
The result is a slightly healthier-ish Banana Bread that is literally LOADED. Loaded with flavor, texture and deliciousness. Seriously, how good (and, yes, filling) does this look?

Save Money at a Ski Swap
Are the slopes in your future? If you want to save money on ski gear, consider a ski swap. A swap is a great way to buy and sell used equipment. Most swaps consist of a variety of gear, from brand new to used skis and snowboards to skis; from poles to boots to bindings and ...read more
The Ten Best Wooden Play Kitchens For Kids
Cooking is a timeless fascination for children. This type of play goes beyond gender and teaches kids loads of life skills along the way. An investment in a play kitchen is money well spent, as it can provide hours of entertainment. We've rounded up the ten best wooden play ...read more
New Victory Announces a New Season of Shows
We know you're busy planning picnics and summer outings, but we wanted to let you know that The New Victory just announced their new season and it looks fantastic. We thought you'd like a sneak peek of what's in store! Each year the New Vic theater brings culture to tourists and ...read more
Obviously, you could go even more healthy by using whole wheat flour, omitting the chocolate, etc., etc. But, baby steps, people. I'm taking baby steps.
And right now I'm going to step into the kitchen for another slice.
Loaded Banana Bread Recipe
Peanut Butter, Oats, Flax and Semi-Sweet Chocolate Make this Banana Bread Extraordinary
Ingredients
1 1/2 cup all-purpose flour
1/2 c ground flax seed
1/2 c oats
3/4 t baking soda
1/2 t salt
1/2 t cinnamon
about 1 1/2 c mashed ripe banana (I used 3 bananas)
1/2 c plain or vanilla yogurt (I used Greek vanilla yogurt)
1/3 c peanut butter
3 T butter, melted
1 t vanilla
2 large eggs
1/2 c honey
1/2 c brown sugar
1/4 c chopped peanuts
1/4 c semi-sweet chocolate chips
Loaded Banana Bread Directions
Grease 9 x 5 loaf pan. Preheat oven to 350 degrees.
Combine dry ingredients - flour, flaxseed, oats, baking soda, salt & cinnamon - in a large bowl.
In a medium bowl, whisk banana, yogurt, peanut butter, butter and vanilla until combined. Mix in eggs, honey and sugar. Whisk together until there are no sugar clumps.
Gradually stir wet ingredients into dry ingredients and mix until well combined. Fold in peanuts and chocolate chips.
Bake for 55 - 65 minutes.
MORE FOODIE FUN FROM MOMTRENDS
PIN IT!
Use Pinterest to save your favorite recipes ideas. Be sure to follow our Recipes to Inspire Board here.