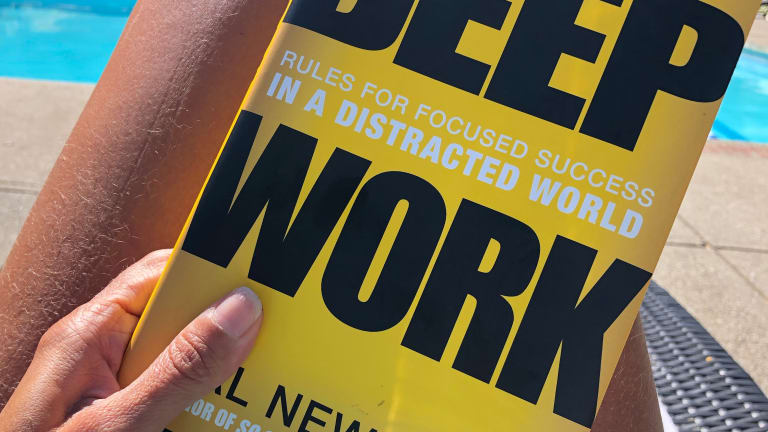 Deep Work Book Review: A Solution for Working Moms?
Do these rules for focused success in a distracted world apply to moms who work?
Wouldn't it be great to work in a world free from distractions? I love being a mom, and summertime means having my favorite people around for travel experiences and simple hang-out sessions. Summer is our time to connect and bond; my people are my top priority. Summer is also when my work time seems fractured and my productivity suffers. That's where this Deep Work book review comes in. I wondered: are there solutions for working moms in Deep Work?
Distractions we Can Control
Agree or disagree? Distraction remains a destroyer of depth. Of course, I agree. I long for uninterrupted silences and the ability to hear myself think. In fact, this is why I began my meditation practice last year. This however is NOT a reality of motherhood. Being a mom means living outside yourself. 
This is the fundamental struggle, my biggest distraction is my biggest source of joy.
In addition to kids, I travel a lot. Travel brings me joy and fuels my creativity; I don't plan on putting away my suitcase anytime soon. New schedules and new settings mean that I'm always struggling to fit in time to work.
This book was meant to help me jump start my fall and come up with a plan that satisfies my desire to see Momtrends flourish while I keep the family bonds strong. In a nutshell: Newport falls short, but does offer lifelines.
Let's jump in to how I plan to implement the Deep Work methodology into my life.
Creating Work Blocks
I'm guilty of getting lost in the email abyss. When I begin my workday, I get distracted by what other people want from me. Other people's wants come in the form of email and DMs. I've been making the mistake of diving into these before I do the work that matters most: creating meaningful content for working moms.  
Newport suggests scheduling blocks of deep work into the day. In fact, he suggests scheduling every minute of the day! I don't think I'm there yet, but I am embracing this concept.
I've been neglecting projects that take more than 10 minutes of my time and making managing email a priority. There are certain things that create tremendous value to this brand and they can't be accomplished on the go. I need to make time for this work that really matters and that I feel great pride in creating. 
I need to prioritize my writing and creating in the meaningful chunks of time that happen when I have peek brainpower.
Cal Newport says,
The key to developing a deep work habit is to move beyond good intentions and add routines and rituals to your working life designed to minimize the amount of your limited willpower necessary to transition into and maintain a state of unbroken concentration.
Action Plan: On Sunday night I will build writing blocks into my schedule. Chunks of 60-90 minutes where I can think deeply and write long-format features on travel and time management. I'll also use these blocks to edit video. 
Social Media
This one is tricky. Since social media is where I meet my community, I can't really cut this off.  Newport suggests quitting for thirty days and seeing what happens. This won't work well for me since social media is a big factor in what I do, but I can build structure into how I use it. 
If you work in an industry where social media doesn't matter, a social-media fast might be just the thing to cut out this distraction or put it in a very manageable box.
Action Plan: Build in blocks of time for social media. Limit those "quick hits" that I do throughout the day and focus structuring how I engage on social media. 
Email Sorting
Newport calls it "draining the shallows." I call it the bane of my existence. Each day 200 emails come in asking me for things. I do my best to reply to them with resources and kindness. 
Action Plan: Create more canned responses that can end the email loop. If I reply, it will be in away that can move a project forward. I will not use "deep work" chunks of time to battle the inbox. 
Keeping Track and Keeping Score
I'm competitive and I like to keep score. I enjoy analytics and statistics and use numbers to help me make decisions. Newport suggests tracking the output to see how Deep Work practices are helping your work.
For me, this will mean taking a look at the content I produce. I want to write high-quality articles for Momtrends and produce more videos to tell the story of the places and people that inspire me.
Action Plan: Saying I want to produce more high-quality content isn't enough. I need to quantify it and track my progress. I have a monthly recap of the number of articles I produce. I will track the output here.
Shutting down the workday
Now we get to the benefits of the Deep Work philosophy.  Ideally by working in these deep chunks, I will be able to unplug more and spend time with my family and friends without feeling distracted and guilty. 
Newport suggests that you don't end the day unless you've come to a stopping point where you can wrap up and prep for the next day with your work blocks created. 
I'm not sure who is minding the children when this is going down, but my workday is often truncated due to childcare needs. I don't often have the time at the end of the day to tidy everything up and head to dinner.
Action Plan: While I love the idea of shutting down for the day before I go home, realistically this won't happen since I have to pick up my kids at 3:20 pm. From 3-9, I'm taking care of other people. I need 9:30-10:30pm to plan and prep for the next day. 
More Walks in Nature
Who can argue with this concept! Newport tells us that city walks won't do the trick (too distracting and noisy) --which means those folks in urban settings might struggle with this one. Newport says, "Downtime helps recharge the energy we need to work deeply." I agree, but again I think he's coming from a place of privilege when proffers the idea that we all have tree-lined lanes available. 
Action Plan: Replace meditation for the idea of time in nature.
Do these rules for focused success in a distracted world apply to moms who work?
I don't think Newport gives a moment of thought to the reality of mom guilt. In my book, Mom Boss, there's an entire chapter on this topic. I'd like to hope the author gives more thought to how his wife and kids fit into the picture. For me, it's not optional. I'm on the frontlines.
And what about the single moms out there! I think Newport is too solipsistic in his writing. Kids get sick, aging parents need help. In a given week, I'm thrown at least two family-related issues that have to go at the top of my to-do list wiping out what I had planned. What would Newport do? Not a clue.
Newport offers to methods of obtaining deep work, the "monastic" approach (literally removing yourself from the world for weeks or months at a time. Tell me how a mother could ever pull this off? In fact, most if not all of the examples Newport offered were of men. I can't recall a single mention of a woman who worked deeply in his book.
Momtrends Bottom Line on Deep Work
Deep Work has many great tactics that I plan to integrate into my life, but ultimately, it left a bad taste in my mouth as it completely ignores the experience of being a caregiver.
Buy the Book
Get the Deep Work book on Amazon here.
More Book Reviews from Momtrends
PIN IT!
Use Pinterest to save your favorite book reviews from Momtrends. Follow our What to Read board here.
This Deep Work Book Review: A Solution for Working Moms? feature is not sponsored.