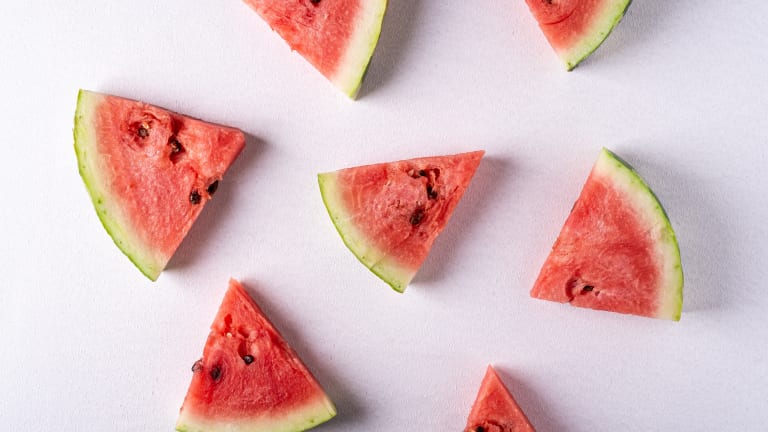 The Cutest Watermelon Summer Gear
Jumping on the hot trends in summer fun gear with this collection of watermelons.
When it comes to summer, it's all about being outdoors and enjoying the fruits fo the season and we've gathered the cutest watermelon summer gear. We do love all fruit, check out our pineapple love here, but when it comes to summer, this cheerful sweet snack is our farmer's market must-have. I have become enamored with practically anything featuring the sweet fruit. 
Related: Grown up watermelon slush cocktail recipe
Watermelons for Summer
Chilled fruit makes the very best snacks for summer. All you need to do it cut up chunks and keep it ready for little hands to snack on. We love serving it up on colorful plates at home. Take this fantastic enamel plate for example. I got this at West Elm and have found that it is the perfect out-door tray. I don't have to worry about it breaking and it holds practically anything I wish to serve. (They also have a bowl and right now both are on sale.)
Grow Some Watermelons
Watermelons are not only totally delicious and versatile (I love a fresh mint, feta, and watermelon salad!) but also super cute. I decided I would try my hand at growing some using the adorable egg crate gardens from Backyard Safari Company. You can grow anything from herbs to fruits and veggies. I'll keep you posted on my melon progress.
More Watermelon Cuteness for Summer
When it comes to summer style, watermelons are everywhere. We've gathered our favorite picks for summer fun.
1. Watermelon banner 2. Watermelon cutting board 3. Watermelon Rash Guard Set 4. Watermelon flip flops 5. Watermelon Face Mask 6. Watermelon pool float 7. Watermelon water bottle 8. Watermelon Tunic 9. Watermelon Shirt  
Stay Hydrated Watermelon Water Bottle
And the best way to stay hydrated this summer? A watermelon water bottle of course! This one came from Nalgene and I love the little phrase printed on the sides, "Always use your melon". A good reminder to think before you act. 
MORE SUMMER FUN FOR MOMS
PIN IT!
Use Pinterest to save your favorite fashion posts. Be sure to follow our Summer fun board here.
Momtrends was not paid for this post. We did receive water bottles for review.