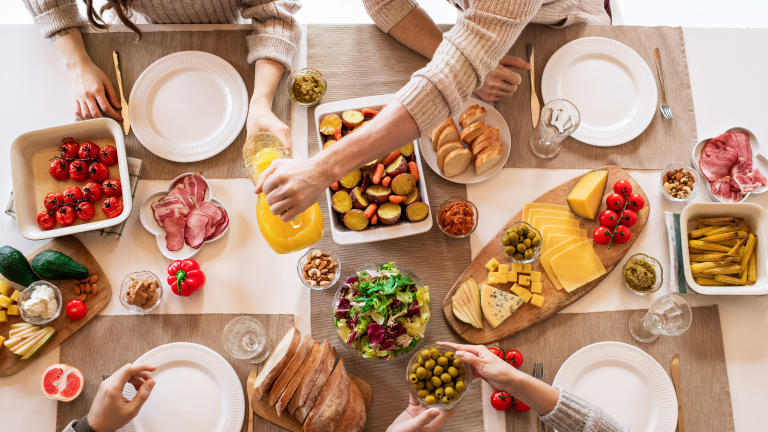 Crockpot Stuffed Apple French Toast Recipe
This stuffed apple French toast is a favorite at my house and the apples make it a great spring option for an easy morning that's a crowd pleaser.
For us, oddly enough, this week is Spring Break, and as is tradition at our house, my parents are coming to visit. Unfortunately, the way Colorado has their Spring Break set up, at least in our district, Spring Break and Easter do not coincide. Since my parents live 1,600 miles away, we're just going to have to celebrate Easter a bit early.
Related: The best overnight French toast recipe
We do a large Easter dinner, and have learned, in the past, that also having a large breakfast doesn't work well for any of us. The years we've gone out to brunch, no one has been hungry for a large turkey or ham dinner that evening. Last year, we finally got smart and put on a great breakfast in the crockpot overnight, freeing up the oven space for dinner and keeping it simpler on us.
This stuffed apple French toast is a favorite at my house and the apples make it a great spring option (we use a lighter green apple). As well, it's ideal if your Easter morning involves getting up and going places. It all goes in the crockpot the night before and is ready when you wake. Just set the coffee timer, buy a great orange juice and breakfast is served!
Crockpot Stuffed Apple French ToastIngredients:

7 sandwich-size slices sourdough bread (I used day old Italian bread so more slices but smaller)
1 (8-oz.) pkg. cream cheese, cubed
2 Granny Smith apples, thinly sliced
6 eggs
1 cup milk
1/4 cup sugar
4 tsps. cinnamon, or less if desired
Syrup for topping
1/4 cup powdered sugar, optional
Directions:
Spray the interior of the crockpot with a vegetable spray.
Put four slices of bread into bottom of crockpot, overlapping edges.
Add half the cream cheese and half of the apple slices.
In a medium bowl, mix eggs and milk together and pour half over bread, cream cheese and apples in crockpot.
Mix sugar and cinnamon and sprinkle half over all.
Cut remaining three slices of bread in half and layer on top of cinnamon-sugar mixture.
Add remaining cream cheese and apples and pour the rest of the egg/milk over all.
Sprinkle with remaining half of the sugar mixture.
Cook on High for 2 1/2 hours. Remove promptly and cut into portions.
Sprinkle with powdered sugar, if desired, and serve with syrup.
WANT MORE FROM MOMTRENDS?
PIN IT!
Use pinterest to save your favorite recipes ideas. Be sure to follow our Recipes to Inspire Board here.
This is not a sponsored post.