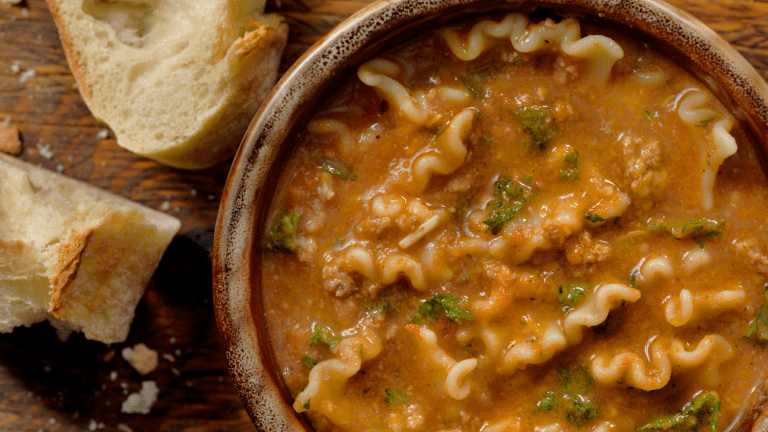 Sunday's Are for Lasagna Soup
The easiest slow-cooker recipe ever is a perfect winter meal.
This week winter seems to really have set in. What I mean is: it felt like January and I absolutely welcomed the chill with open arms. Boots, sweaters, blankets, and lots of soup. In fact, with ski trips planned and the Super Bowl coming soon, I'm in absolute heaven. It's the perfect time for hearty soups like this Lasagna Soup recipe you can make in your crockpot.
The idea of smelling a meal slowly simmering did not send me into a spiral of sickness--woohoo! Of course, I didn't want to risk trying an elaborate recipe, so I decided to test the waters with a simple dish.
Lasagna soup is one of my favorite crock-pot meals. It's ridiculously easy, requires just a few ingredients, and is hearty and satisfying. I've adapted this recipe from a few different sources to simplify and streamline for the laziest of Sundays. 
Lasagna Soup Ingredients 
(serves 6 - 8 bowls)
1 lb. ground beaf
1 yellow onion
1 tbsp. EVOO
4 tbsp. minced garlic
28. oz can of crush tomatoes
1 tbsp. tomato paste
1 tbsp. balsamic vinegar
1 tbsp. dried oregano
32 oz. chicken broth
1/2 cup of heavy cream
8 oz. lasagna noodles, broken (you can also swap for shells or preferred pasta)
2+ cups of shredded cheese
Grated parmesan cheese
Lasagna Soup Directions
In a skillet, heat oil and add onions, season with salt. Cook until golden.
Add beef and cook until brow. Drain fat.
Transfer to slow cooker.
Add garlic, crushed tomatoes, tomato paste, balsamic vinegar, and oregano; stir.
Add chicken broth and let simmer on medium heat for 4-5 hours.
Add heavy cream.
Twenty minutes before serving, add lasagna noodles and mozzarella. 
Serve in a bowl and top with grated parmesan cheese.
MORE RECIPE IDEAS FROM MOMTRENDS
PIN IT!
Use Pinterest to save your favorite recipes. Be sure to follow our Kid Food Pinterest board here.