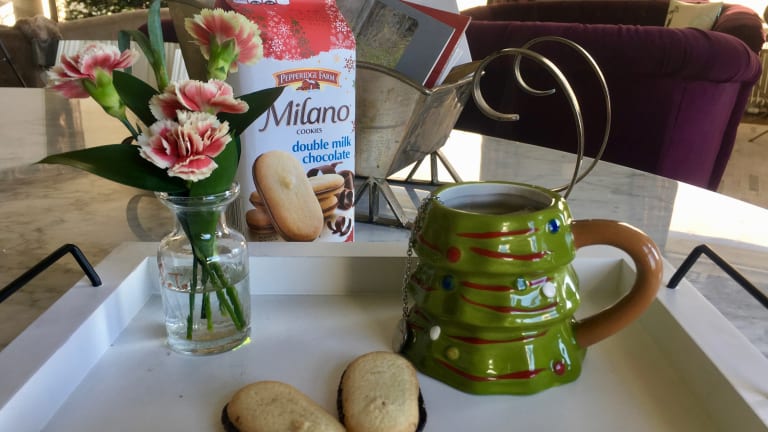 Creating Holiday Hygge
Taking a cue from the Danes to make a cozy home
In 2016 the word of the year was Hygge. If you didn't catch the trend, it was all about creating coziness at home. Lots of folks have embraced the Nordic concept and I am all about creating holiday hygge.
Hygge (pronounced hue-guh) is a Danish word used when acknowledging a feeling or moment, whether alone or with friends, at home that is cozy, charming and special.
My most favorite thing to do this week is write thank you notes and to re-read all the glorious Christmas cards we received. We gather them all in a sleigh that we bring out every year. Then as I sip and unwind I look at all the friends and family I am blessed with. I hope the holiday card trend NEVER ends. Here's how I hygge during the holidays.
Setting the Hygge Setting
The key is to NOT get consumed by everything on your "to do" list. Make a list of what you need to do TOMORROW and then embrace the now. This time of year between Christmas and New Year's we usually spend the time skiing. Sometimes, I send the kiddos off with Mr. Momtrends so I can enjoy time alone to read and just be still.
The key is a good cozy spot in your house where you won't think about laundry or what to make for dinner. I think a fireplace is necessary! Then I gather a few things and set about doing almost nothing. This season I've fallen for the Cultivated Candles "democracy" scent. Cultivated candles are lovingly made in Columbus Ohio. They are hand poured into ball glass jars. The cute couple that makes these uses an old factory to create their artisanal scents. For hygge-lovers, Democracy  is ideal. The candle is a blend of mulled cider and spices for a "homey" aroma. The act of lighting this special candle helps my brain turn from productive mode to a place where I am creative and receptive.
Hygge Treats
Is there anything better than a tea break? It's the way I embrace the hygge spirit.  When I am creating holiday hygge, I start with a flavorful tea like the Kusmi Green tea with strawberry - it smells divine. I use my sparkly tea clip to brew my tea. I use loose leave Kusmi tea in a sachet and then I attach MyTeaBling to my tea bag! It's anything but boring and perfect for this tea snob.
I add a few Milano classic cookies and I'm in for the night! Dark chocolate and green tea...I'm sure it's good for me isn't it?
Hygge Reading List
On my cozy home reading list, I'm starting with the new book by my friend Lisa Druxman called Empowered Mama. This is a workbook meant to help add more balance to your life and to focus on prioritizing things that matter most. The Empowered Mama is a great counterpart to my book Mom Boss.  It's full of simple, powerful tools to help moms reconnect with themselves on the journey through motherhood.
I'm also loving my winter edition of Twist Travel. It's a new digital magazine for families that love to hit the road. I'm indulging in my wanderlust as I read about things like European Christmas markets. Yearly subscriptions start at $49. And if you love to travel, you NEED to check out the 2017 Family Ski Guide. Sip some tea as you plan your next big ski break. 
Now tell me, how do you hygge? Share your favorite hygge habits with me!
This is not a sponsored post.