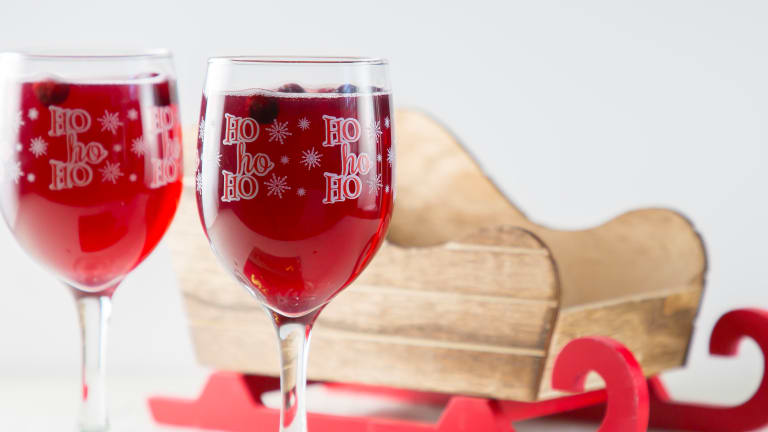 Cranberry Sangria Spritzer
This darling and festive cranberry cocktail is easy yo mix and so refreshing.
The Christmas season is officially here! To get in the mood, I'm sharing my favorite Cranberry Sangria Spritzer. Growing up I scoffed when my mom pulled out our Christmas decor as soon as we finished our Thanksgiving dinner. Guess what? I'm doing the same thing! Full circle I suppose. My son is still young enough to be super excited though. I still have some good years before those more difficult teenage years.
Related: How to create a gorgeous Thanksgiving tablescape
For the first time ever, I went Black Friday shopping. WHAT! I know, it goes against everything in me. I avoid crowds and holiday shopping like the plague. Waking up with some crazy gumption, I decided that I would try it this year. Surprisingly, the stores were not crowded at all. Parking was even a breeze. The shopping gods were on my side.
I managed to score some pretty great deals and didn't even spill my coffee.  Plus, I was home by 10 am. Three hours of shopping, and I'm almost done with my Christmas purchasing. Almost. If someone can tell me what to get my husband, please do. No clue whatsoever.  
Our Thanksgiving was great!  Hopefully, yours was as well.  Lots of turkey and sides and, of course, the food coma that follows. Best naps ever! Thanksgiving and Christmas dinners are usually my domain regardless of who we are celebrating with. I'm the cook. No qualms here, but it can be overwhelming at times.  My secret? Keep it simple!  Spend more time on garnishes and props than intricate dishes. Everyone will think you slaved for days.  
Cranberry Sangria Spritzer
One of my favorite cocktails for easy entertaining is spritzers. They aren't too heavy as far as alcohol content so you have a few without worrying too much about overdoing it. This year while shopping for my Thanksgiving spread, I came across Ocean Spray's new non-alcoholic mixers.  I am so happy I gave it a try. 
Cranberry Sangria Spritzer Ingredients
1 Part Ocean Spray  cranberry sangria mixer
1 Part Barefoot crisp white spritzer
Frozen Cranberries for garnish
Cranberry Sangria Spritzer Directions
Sweet and fizzy, this cocktail was simple and fun.
Mix 1 part cranberry sangria mixer to 1 part white wine spritzer.  
Dress it up with some frozen cranberries to keep it chilled.
Happy Sipping!
MORE HOLIDAY IDEAS FROM MOMTRENDS
PIN IT!
Use Pinterest to save your favorite ideas from Momtrends. Be sure to follow our Holiday fun parties recipes and crafts board here.