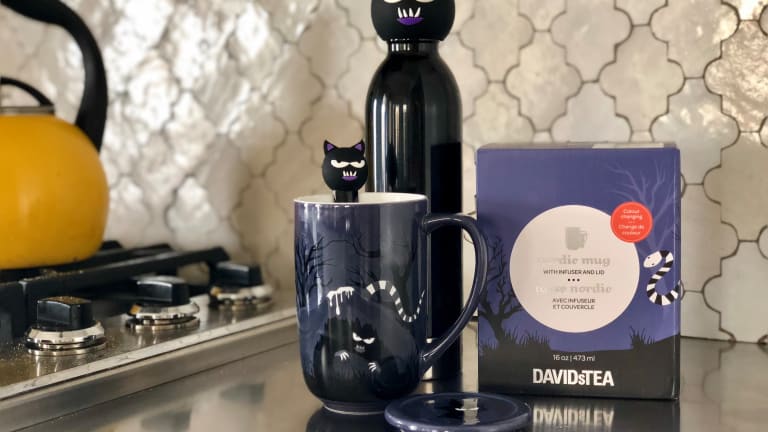 Cozy Up to Tea This Fall
We're Loving the Sets & Sachets From David's Tea
Winter is the ideal season for curling up with hot cocoa, complete with a heaping halo of whipped cream, of course. But autumn... autumn is when I love to get cozy with a cup of tea. As an avid tea drinker, through, I'm happy to sip my way through all four seasons, but there's something especially enjoyable about discovering a hot new brew just as the crisp weather breaks. Cold air, delicious blanket, steaming cup--sounds pretty blissful to me. This fall, Davids Tea has an amazing assortment of sachets, samplers, and sets--and I'm warming up to all of them. 
Related: Plan a green tea detox
Cozy Up to Tea This Fall
The new Halloween collection is giving me all the frightfully fun feels, with blends like "monster mash," a buttery pumpkin-infused flavor with a comforting combination of cardamom, cinnamon and clove and "witch's brew." This concoction's spell-binding base of rooibos and cocoa beans give it a sweet and smooth taste, while orange candied witch hats and black bat-shaped sprinkles offer an enchanting surprise.
The "teas for magical creatures" set offers a sinfully good sampler for taste testing. But I've got to say: I'm most excited for the festive mugs, cups, and accessories. The lil ripper stainless steel bottle will be coming with us on any and all "booing" and trick or treating adventures. It's leakproof, keeps tea hot for hours and has a bottom that unscrews to add ice (if you want a refreshing bev, instead). If it's a chilly night, we will definitely sneak sips of warming tea between stops at houses and apartments (who needs candy, when you've got tea for two?).
I've been using my Monsters Colour Changing Nordic Mug every day this month to get myself in the spooktacular frame of mind in the morning, and it really does put a smile on my face. With a stainless steel infuser and a lid that doubles as a saucer, it unveils a surprise image when you pour in hot water.
Halloween may come and go but my love for tea will remain. For everyday brewing, I have the reinvented classics mini sachet tea set. This collection of four teas features Saigon Chai, a spiced black tea; Buddha's Blend, a mellow melange of jasmine pearls and hibiscus blossoms; vanilla-laced Cream of Earl Grey; and Green Passionfruit, which is, not surprisingly, amazing over ice. 
So, if you need me this month and beyond, you'll find me cuddled up on the couch, cup in hand... Fall coziness is calling, and, in my book, it's always tea time.
MORE TEA LOVERS FEATURES FROM MOMTREDS
PIN IT!
Use Pinterest to save your favorite articles. Be sure to follow our Tea Lovers board here.
This is not a sponsored post. Samples were received.