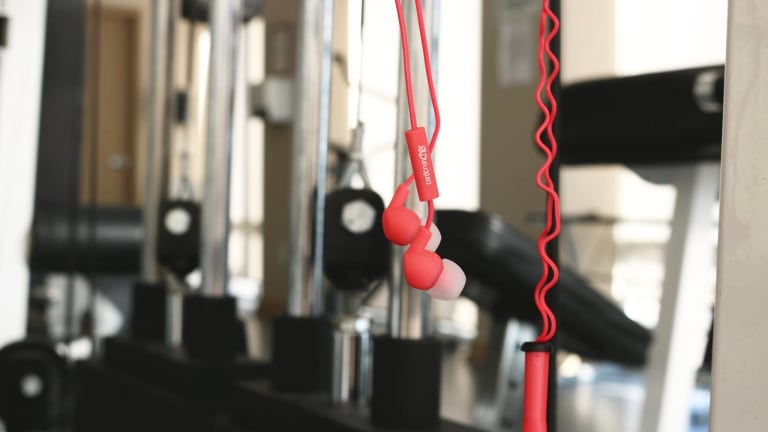 Sleek Headphones from CordCruncher
Sleek Headphones from CordCruncher: Tug the rubber tube that houses the headphones, the cord length adjusts from 16 inches to 3.5 feet.
Why when you're at the gym and all the bikes around you are empty, the guy who walks in next always has to sit next to you. Go over there, my friend. That bike waaaaay over there is empty. And so are all the other ones in between. The answer? Sleek headphones from CordCruncher.
Related: Best mini bluetooth headphones under 50
This very thing happened to me the other day. And the fat-free icing on the cake was that this guy was a talker. OMG he could talk. But like a good book on a plane that's a sign that reads "don't talk to me," headphones on at the gym also relay this message. Too bad he didn't get this message because I hadn't untangled by headphones yet. I was stuck.
I have vowed to never have this problem again, all without growling at someone when they try to take the bike next to me. An invention by Moxytronix, CordCruncher headphones are for anyone who gets annoyed by tangled and dangling headphone cords.
With a quick tug at the rubber tube that houses the headphones, the cord length adjusts from 16 inches to 3.5 feet. This means they stay untangled and you can take command of how long you want it to be. To put them back in, you just pull the other side and they return to the case.
Once you get over the fear that you're pulling too hard (you aren't - they won't break), this is a clever way of keeping your headphones in one long tube instead of one giant blob. They come in glo orange, pearl blue and black. The fashionista in me found a way to add a little pop of color to my lululemon grays, so I grabbed the orange one, stuck the jack into the end of the rubber to make a circle, and then I wrapped it around my wrist twice. Ouila! A cute wrap bracelet to spice up my gym ensemble (shown above). No, no...no need to thank me. This is my job.
They also come with three different sizes of ear bud covers, covering every size from tiny to how-can-you-not-hear-people-in-China-your-ears-are-so-huge big.
If you want to keep your Cruncher for 1,000s of crunches, there are a few rules of engagement. First off never ever (read: ever never) grab the sleeve below the ear piece or you will wear a hole in it. Also don't crunch at an angle.
And of course, the fun warning: the sleeve acts as a big rubber bad when stretched. Lose your grasp, you can end up snapping it into your neighbor's face. Guess that's one way to get someone off the bike next to you.
CordCruncher is available for $24.99.
MORE TECH ACCESSORIES FROM MOMTRENDS
PIN IT!
Use Pinterest to save your favorite tech finds. Be sure to follow our Mom Boss board here.
Momtrends was not paid for this Sleek Headphones from CordCruncher post.