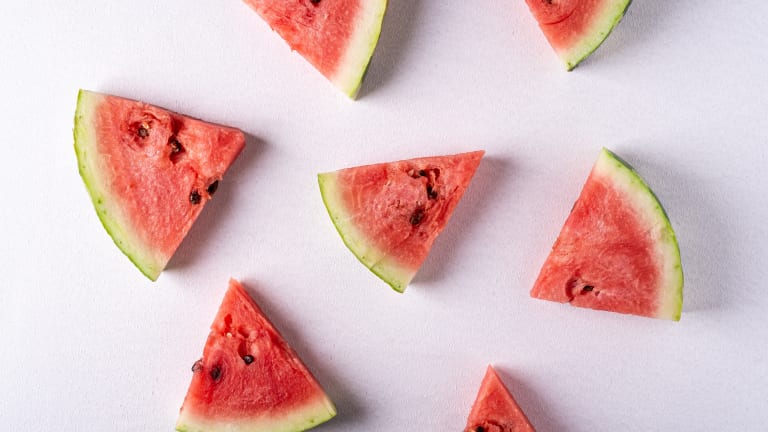 Cool Off With a Frozen Watermelon Cocktail
A delicious and easy two-ingredient cocktail featuring one of our favorite summer fruits! Meet the frozen watermelon cocktail.
Memorial Day is the unofficial start of summer which means it's time to break out that grill, the corn on the cob, and fresh juicy watermelon. While a plate of cold, sweet watermelon is a perfect snack on its own, I'm using my watermelon this weekend to whip up these frozen watermelon cocktails. A perfect way to ring in the warm-weather!
Related: Watermelon slush cocktail recipe
I love that this cocktail has just two ingredients and that cutting the watermelon is a do-ahead step which means assembling these is a breeze.
Frozen Watermelon Cocktail Ingredients
seedless watermelon
vodka
watermelon rind spears for garnish
Frozen Watermelon Cocktail Directions:
Cut off watermelon rind and dice watermelon into cubes. Place on parchment-lined tray and freeze for 3-4 hours. (Or do this days/weeks ahead of time!)
Blend frozen watermelon chunks in a blender.
Add 2-4 shots of vodka to taste and continue blending.
Pour into glass and garnish with watermelon spear.
You can also make this into a kid-friendly drink by skipping the booze and mixing in a bit of juice, sparkling water, or coconut water instead. And frozen cubed watermelon makes a fun, warm-weather kid snack too!
MORE COCKTAILS AND ENTERTAINING IDEAS FROM MOMTRENDS
Love this recipe? Please share! You are guaranteed to love these summer cocktails too:
PIN IT!
Use Pinterest to save your favorite cocktail ideas. Be sure to follow our Drinks board here.