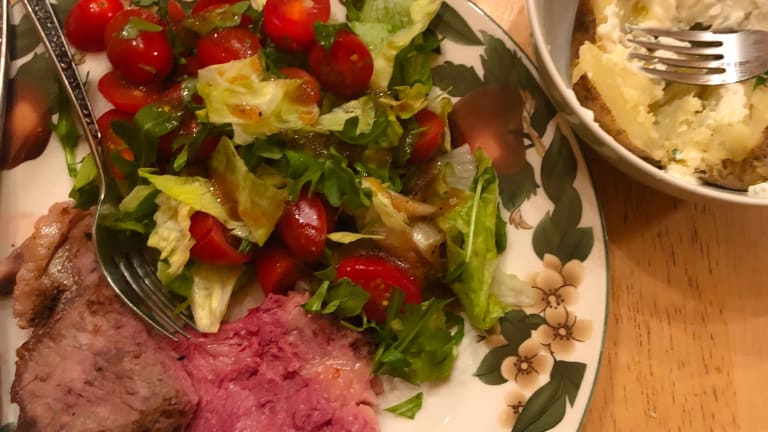 Cooking With the Closed-Door Method
Make the Most Tender Meat
When you spend almost $70 on an incredible bone-in ribeye, you don't want to take any chances with your cooking method. But when you're rushed to get dinner on the table for a house full of hungry guests, and you need to make it happen, you might need to embrace some experimentation. 
When my husband suggested we give the closed-door cooking method a go, I was skeptical. I didn't even know what that meant before a quick google search--and then once I grasped the idea, I was worried about killing a pricey piece of perfection. Alas, we gave it a go and I'll never cook a prime rib the traditional way again.
So what does this process entail? Basically, you cook your meat for a short amount of time (depending on weight) on a high temperature, and then you turn off the oven completely--never once opening the door for two full hours. It might take all will power, but letting your roast rest in a hot oven as it gradually cools from piping hot is the key to attaining the perfect medium-rare.
It's ideal to use this process with a smaller cut (under 10 lbs), and the key to success is knowing the exact weight. Multiply that by five and that is your precise roasting time. So, we had a 7 lb roast that we cooked for 35 minutes. Note: before you pop the meat in, preheat the oven to a roaring 500-degrees.
We slathered our meat with coarse salt, pepper, fresh garlic spread, and a sprig of rosemary, then we popped it in the inferno and crossed our fingers... We kept turning on the oven light, and were slightly unnerved by a slightly charred top, but in the end the result of our culinary risk? A gorgeously pink piece of prime rib. Two hours and 35 minutes later an incredible dinner was served.
You're going to want to give this cooking method ago! 
Doing Whole 30--you can eat prime rib and a potato! Check out our favorite other recipes here.
This is not a sponsored post.