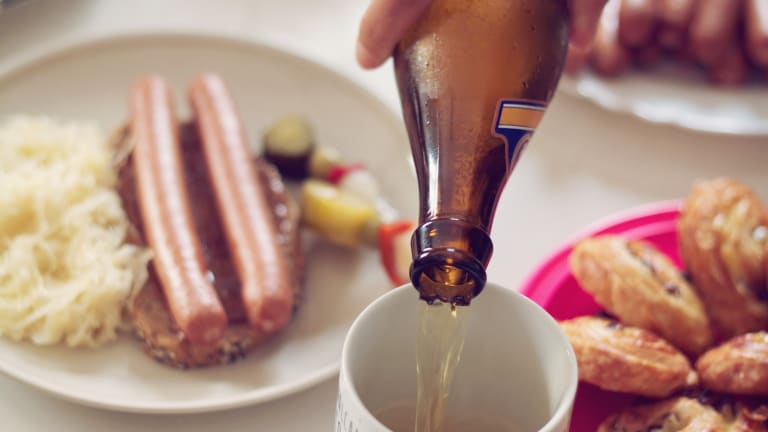 Publish date:
Fun Recipe Inspiration: Cooking With Beer
7 Innovative Recipes you've got to try to work beer into your favorite meals.
7 Innovative Recipes you've got to try to work beer into your favorite meals.
Wine is a staple in cooking. A splash of white, a pour of red--added per the recipe, tipped in spur of the moment, or on a whim. You can't really go wrong--because wine and food in a simmering pot just go together like, well, like the wine and food paired on your place setting. But it's time for wine to move over and make room for another drinkable ingredient and run recipe inspiration: beer.
Related: Celebrate Oktoberfest with home brewed beer party
Cooking With Beer
Yes, no fancy airs here--we're getting cooking with beer. Dark stouts, amber ales, light citrus brews, you name it. Beer can pack a punch and add some serious buzz to rich dishes and light bites alike. 
We've rounded up a few favorite ways to cook with beer--sláinte!
Beer Braised Short Ribs via Olivia's Cuisine: This Irish inspired Stout Beer recipes is the most delish was to enjoy Braised Short Ribs. The ribs come out hearty and tender. Serve it for St. Patrick's Day with some Irish soda bread to soak up all that luscious beer gravy goodness.
Crispy Beer Chicken via Café Delights: the key to this dish is the marinade. They use lager to make the chicken so tasty. 
Kielbasa and Beer Cheese Soup via 12 Tomatoes: this is a rich and cheesy soup loaded with sausage and potato. It's hearty and perfect for winter.  

Get Ready for Summer Tea Collection Sale
Even if we all have to stay local, summer is going strong. As you head to the pool or day camp you might have noticed your kids GREW during the past year. Just in time for summer, Tea Collection is rolling out a big deal on swimwear and graphic tees for kids. I've enlisted some ...read more
The Key to a Great Overnight Oat Recipe
Working moms know the importance of meal planning. I'm getting ready for busy few weeks and I've been perfecting my fast breakfast options. I've been using Bob's Redmill Organic Steel Cut Oats to prepare my overnight oats for a nice, cold breakfast in the morning and I'm going to ...read more
Morning Sickness Relief with Sea-Band Mama
While pregnancy is this amazing and beautiful time in a women's life, it is also one that can wreak havoc on the body. From morning sickness to discomfort to cravings, the body that you once knew so well becomes this vessel for your baby. Of course, this is all worth it but ...read more
Beer Chili via Self Proclaimed Foodie are you getting ready for a big game? Then you can't go wrong with this classic recipe.
Beer Steamed Clams via Fox and Briar: this recipe is perfect for a summer party. It's the way to create a perfect seafood feast.
Beer Mac & Cheese via Slow Cooker Gourmet: your family will love this feast. It's a grown-up twist on a classic.
Spicy Beer Shrimp via Spicy Southern Kitchen: I love a little spice in the kitchen and this recipe is a zesty dish.
MORE FROM MOMTRENDS
PIN IT!
Use Pinterest to save your favorite recipes ideas. Be sure to follow our Recipes to Inspire Board here.
This is not a sponsored post.