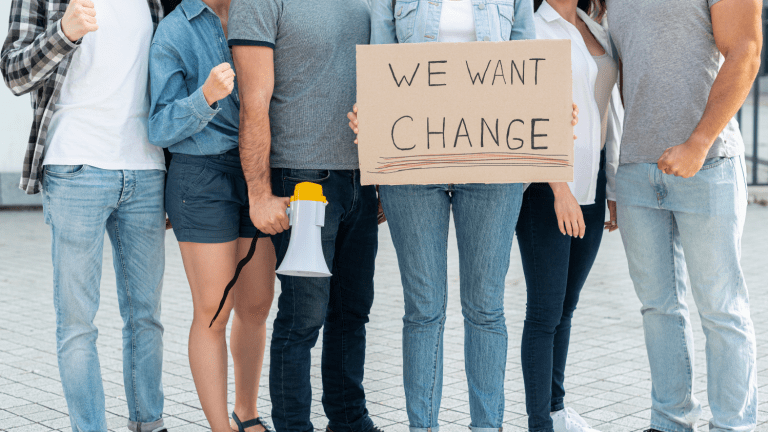 Compassion, Fear, and Facing the Reality of Gun Violence
Four ideas to help you and your family move forward towards change and an end to gun violence.
This post was originally published in October of 2017, after a gunman opened fire at a concert in Las Vegas, killing 58 people. Five years later, it still applies. In this, the latest heartbreaking, soul-crushing human massacre, 14 were murdered at a elementary school in Texas--students with promising futures, heroes shielding children, innocent lives robbed... This was the 27th school shooting in 2022. That's 27 in 144 days. You do the math. To be clear, one would still be one too many, but we're terrified by this "trend" and horrified that this post will probably have to updated again and again and again (insert new tragedy and re-publish.) We are sick and sad and so scared. But we won't give up hope for a brighter, safer country and world for the sake of all our children.
Read on for the original post...
What We Know About School Shootings
Okay, friends. It's time to address the elephant in the room... It's time to get real, be vulnerable, and bare our souls.
Ignorance is bliss, and I only wish we could continue with the norm today, happily posting about style and beauty and gear and trends in tech for moms without having to dig too deep or think too hard. Alas, the last 24+ hours have been gut wrenching, and while both our livelihoods and our respective roles as parents require us to "keep on keeping on," our minds and hearts are pulling us in another, meaningful direction.
The tragedy in the Uvalde school (as well as the Buffalo grocery store) isn't something we can simply gloss over. We're once again(!) disgusted, frustrated, enraged and impassioned—as moms, as humans, and as citizens of the planet. There has to be a way we can make this country—this world—a better place for our children.
We're not in the business of pushing politics or driving an agenda, but we are in the business of serving moms and bringing our community together. We feel it our collective responsibility at Momtrends to speak out and spark conversation in the pursuit of compassion and humanity. It's one way that we're empowering ourselves in what otherwise feels like a hopeless situation.
In all honesty, I want to wallow in woe and cry myself to sleep, but my kids needs more from me. Our kids need more from all of us. That's why I'm sharing four ways to pick yourself up and face reality today... And so, once again, keep on keeping on.
Lobby Locally
How do I find out how my congressman or Senator voted on gun laws? How can I impact change. These are the big questions. 
First, find out the name and contact of your congressional representative here and your senators here.
Now it's time to lobby. Send them and email, or call and express your opinion. 
Find out if your representatives take money from gun lobbyists. For example, the in 2022, the average Republican received $703,000 in gun money and Democrats $7,000. Use this as knowledge when you talk to your delegates.
Use the Gunsensevoter.org website to get talking points when you write, or simply use your hear.
Register to vote. Head to Vote.gov and become an issue voter.
Talk to Your Kids
My children are young. I want them to be kids. I scrambled yesterday morning to turn off the news. Shielding them entirely from reality might not be the recommended route, but it just didn't feel right. I've got to do me and you've got to you. Never doubt that you know your kids best, and you know what will resonate. We don't want to scare our children—even though we, ourselves, may be terrified. 
If your kids are older and asking questions and expressing fears, they need YOU. They need your open honesty and warm arms and enveloping hugs and nurturing kisses. I'm not an expert. I don't have the words. Here is a resource to use as a jumping off point.
Inspire Compassion
I was walking to school with my son a few days ago when I overheard another mom talking to her young daughter before sending her off. She said, "I love you. You are a good person. You are kind. Be a role model." This made me cry then and it makes me cry even more today. It's our duty to raise compassionate kids—to build their confidence and create happy, kind-hearted individuals, to inspire the next generation to care and love and make change.
Kindness and compassion—it's something they teach to Kindergartners. How can we sustain this? How can be ensure our children grow up respecting each other and loving themselves? First, we need to keep fostering this through conversation. And, perhaps more importantly, we need to show this in our own actions. Lead by example—we need to be role models. Repeat that mantra to yourself and your kids every day. "I love you. You are a good person. You are kind. Be a role model."
Donate However You Can
Yesterday, on social media, Nicole shared that she donated to the Red Cross in light of this truly horrific massacre. When we feel totally helpless and utterly hopeless, this is one measurable way we can, in fact, make a difference. Donate money, donate blood, donate time. Whatever you can do.
Take Action in Your Community
I'll be the first to admit that the actual efforts made can often feel futile. How many horrendous tragedies must we endure? Talking, squabbling, addressing the lack of proper mental health care in our country, writing letters, making calls, signing petitions—years later, has it actually gotten us anywhere? Well, idly sitting and feeling sick certainly isn't moving us forward either. Get involved in your community, start a committee, talk to your neighbors, find a tribe of likeminded moms, parents, and humans.  
SAVE THE DATE! National Gun Violence Awareness Day is Friday, June 3! Show your support by wearing orange and sharing your pic online with the #WearOrange hashtag. Then, attend a Wear Orange event in your area that weekend, June 3-5, 2022.
Standing up to take a stance on gun violence may seem daunting, but there are active steps you can today; you can find more resources at Everytown.org and MomsDemandAction. Follow their platforms on Instagram (@Everytown and @MomsDemand) and social media to say on top of the latest initiatives. Ria Browne, the powerhouse mom, activist, and brain behind the and #safetyinnumbers campaign has a few ideas to help inspire action and change.