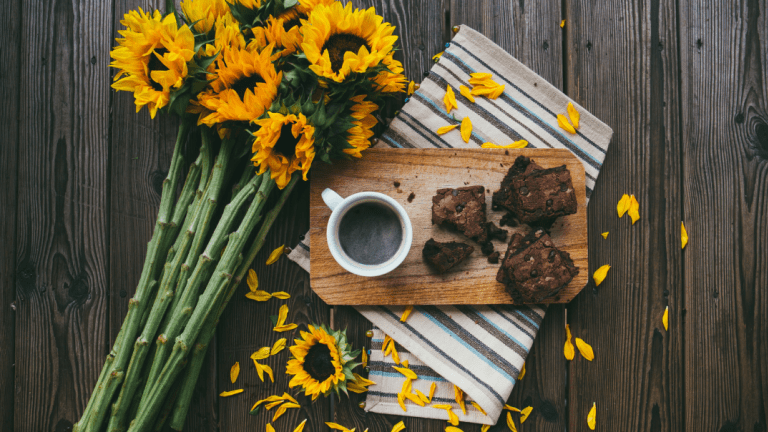 Coffee Brownie Sundae Recipe
You will not be disappointed if you try this hot/cold delectable dessert combination.
This week, we've got a guest host (frankly we're still reeling from emails post-Italy). The good news is an Italian feat post is on the way, and we've got a delicious treat to share this week from Kristin's Nook. Here's her sweet sensation...
Let's talk freezer food. What's in your freezer? We recently had to invest in a deep-freeze. We have too much salmon, too much rhubarb, too much snowshoe hare, and too many razor clams. Oh yeah. Be jealous. I bet that you, too, wish you had a freezer full of "Alaskan" food you won't eat because you don't like any of it. Oh, there's also cookie dough and apple strudel that I bought from a school fundraiser. Last February.
What's in the freezer that I like? Lately, I've taken to eating Dreyer's Half-the-fat Coffee Ice Cream (One of the few pleasures in life that is better than ice cream straight out of the carton?). This week I wanted to dress it up so I added warm brownies straight out of the oven. You will not be disappointed if you try this hot/cold delectable dessert combination.
Well, you'll probably regret it the next day. After all, who stops at one brownie?
Coffee Brownie Sundaes
Ingredients:
Coffee ice cream (you could, of course, make your own, but I love 'Dreyer's Half-the-Fat Coffee Ice Cream')
Brownies, preferably still warm (see brownie recipe below)
Hot fudge sauce
Caramel Sauce
Toppings: Whipped cream, nuts, sprinkles, cherries, etc., if desired
Brownies (recipe from Hershey)
makes a 9x13 pan 3/4 cup of cocoa powder
1/2 t. baking soda
2/3 cup butter, melted and divided
1/2 cup boiling water
2 cups sugar
2 eggs
1 1/3 cups flour
1 t. vanilla
1/4 t. salt
4 T. Kahlua coffee-flavored liqueur
1 cup chocolate chipsIn a large bowl, whisk together the baking soda and cocoa powder. Stir in 1/3 a cup of the melted butter. Mix well. Add the boiling water and mix until it thickens. Then, add the egg and sugar and stir until well blended. Mix in the flour, salt, Kahlua, and vanilla. Then add in the chocolate chips.
Kristin is an Army wife and elementary school teacher. Currently, she and her husband and are stationed in Alaska. Kristin loves to share her adventures in the kitchen, in Alaska, and in life in general on her blog, Kristin's Nook (borrowed the whole "nook" thing from Kelly's Nook on The Office!).
Get more inspiration Glorious Treats with this Mocha Brownie Ice Cream.
This is not a sponsored post.