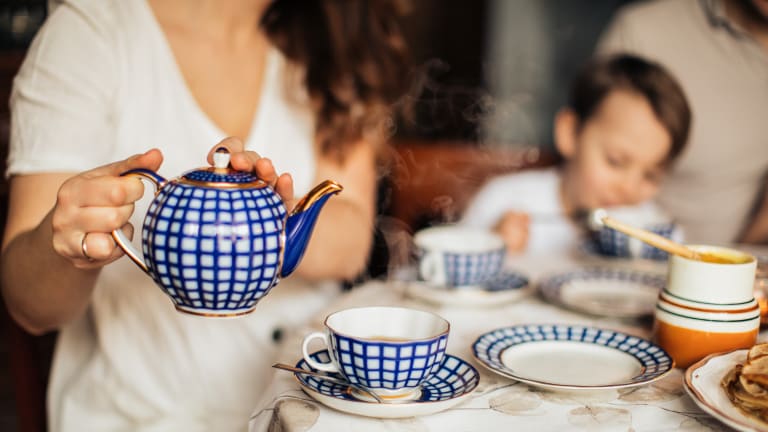 Classic English Tea Party Sandwich Recipes
Throw your own proper English tea party with these awesome tea sandwich recipes.
Do you love all things British? You are not alone. From Paddington, to Mary Poppins to Harry Potter, here at Momtrends, anglophilia is alive and well. This summer, we invite you to throw your very own English tea party complete with signature cucumber sandwiches!
Related: How to throw a proper afternoon tea party
How to Throw an English Tea Party:
Start with the table and arrange a nice tablecloth to set the tone for your food (Gingham is popular in London).
Place your finger foods on a cake stand in the center of the table. Popular finger foods include scones, tarts and tea sandwiches.
When making the tea sandwich, think dainty. It's important start with a good base, we like a healthful wholegrain break like Arnold/Brownberry/Oroweat. 
Don't forget the scones.
English Tea Sandwich Recipes
The perfect tea sandwich is light while also being savory. The traditional recipe calls for a light layer of condiment, a preferred sandwich meat, and a thin slice of cucumber or watercress. And of course you need to trim the crusts and cut into quarters.
Turkey & Camembert Sandwich Recipe
Arnold/Brownberry/Oroweat Health-full 10 Grain Bread
1 round of camembert cheese
4 oz of turkey, sliced
2 cups of micro greens
Directions: Slice the camembert into slices and arrange on the bottom half of the bread. Layer with turkey slices and top with micro greens.
Apple & Cheese Sandwich Recipe
Arnold/Brownberry/Oroweat Health-full 10 Grain Bread)
8 oz brie cheese
1 apple, cored & thinly sliced
2 tablespoons citrus honey
2 cups mache lettuce
Directions: Spread citrus honey on bread and then layer thinly sliced brie cheese and thin apple slices on bread. Top with mache lettuce.
Cucumber Sandwich Recipe
(Arnold/Brownberry/Oroweat 100% Whole Wheat Bread
10 oz goat cheese
8 oz cream cheese
2-3 garlic cloves, minced
1 teaspoon salt
1/2 teaspoon pepper
1 tablespoon fresh thyme, finely chopped
2 tablespoons fresh parsley, finely chopped
2 teaspoons dill
4-6 tablespoons low fat milk
Directions: Place all of the ingredients in a bowl and mix together. Add any additional milk if the spread is very thick. Spread the mixture on bread and top with thinly cut slices of cucumber and baby arugula.
More Things Momtrends Loves About England
Enjoy tea time London--our favorite places for tea
48 hours London kids--what to see on a perfect quick trip
Harry Potter studio tour London--a can't miss adventure.
Pin it!
Save your favorite travel and party ideas on Pinterest. Be sure to follow our Travel board here.
Momtrends was not paid for this post.