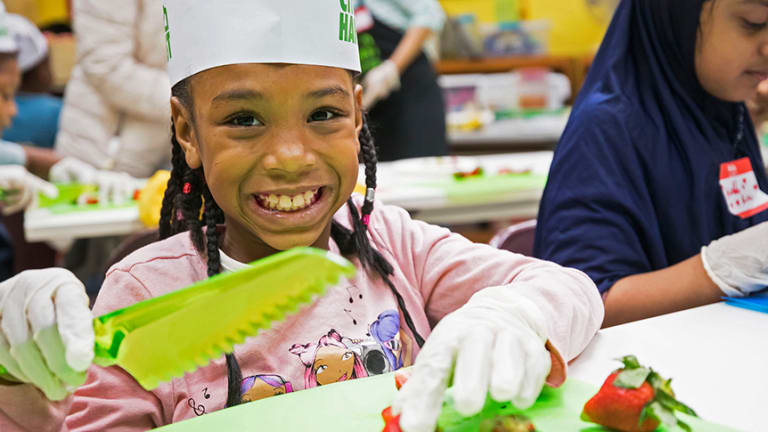 City Harvest Leads Helps Fight Hunger in NYC
Draw for Hope a program to support City Harvest as they support New York's neighbors in need.
Before the COVID-19 pandemic, 2.5 million working-age New Yorkers were struggling to make ends meet. With schools and many businesses forced to close, the COVID-19 crisis is further straining many families in our city. City Harvest is seeing a 30% increase in people coming to Mobile Markets, and they are expecting many more New Yorkers to be turning to them for food as the devastating economic impact hits in the weeks and months to come. City Harvest continues to help fight hunger in NYC and you can help with a new program called Draw for Hope.
Related: 8 fresh perspectives on stress and tips to manage it
Giving by the numbers
For over 37 years, City Harvest's trucks have been a symbol of optimism, relief, and hope for kids and families struggling to put food on their tables. Today, City Harvest is more important than ever before, as they scale up our operations in response to the growing need for food amid the COVID-19 pandemic.
Draw for Hope
At Momtrends, we try to stand for helping families.  City Harvest is asking for our support with a simple idea.
Color. Get one of four downloadable illustrations found here, and then share it on your social media, helping to spread the word of all the great work City Harvest is doing to help feed New Yorkers in need. Please feel free to personalize but see here for an example caption: Today, I helped 'Draw Hope to Drive Hope' in support of @cityharvestnyc's work feeding NYC kids and families in need during the COVID-19 crisis. Donate $15—enough to feed 55 children for a day—by texting LUNCH to 20222. Learn more at www.cityharvest.org/DrawHope #WeAreCityHarvest
Post. Post a photo of your drawing to social medial to spread the word. Be sure to tag them.  #WeAreCityHarvest
Donate. Once posted, you can donate $15 to help feed NYC kids and families by texting LUNCH to 20222 and encourage your friends to do the same.
Send your thanks. You can mail or email your finished creation to personally help thank City Harvest drivers for their incredible work during this increased time of need.
Child Hunger in New York City 
The idea is that most New Yorkers spend about $15 on lunch (and it's easy to go over that at most places). If we skip lunch or brown bag it for a day, we can give the proceeds to our neighbors in need. Here's how the numbers break down:
$15 gift to City Harvest helps make 60 happy tummies
$45 helps feed 25 children for a week
$75 helps feed 21 children for two weeks
$150 helps feed 19 children for an entire month
More than 1.2 million New Yorkers struggle to put meals on the table – that's the population of Washington D.C. and Boston, combined! Sadly, the most vulnerable New Yorkers are children. 
When school closes, families face increased expenses to provide meals that children normally get at school. Now is the time to step up and help out.
About City Harvest 
City Harvest is New York City's largest food rescue organization, helping to feed the more than 1.2 million New Yorkers who are struggling to put meals on their tables. 
The programs help food-insecure New Yorkers access nutritious food that fits their needs and desires; increase our partners' capacity; and strengthen the local food system, building a path to a food-secure future for all New Yorkers. 
To learn more about our work, visit cityharvest.org
To volunteer or learn other ways to donate head here.
WANT MORE FROM MOMTRENDS?
PIN IT!
Need more ideas on what to do with the kids? Be sure to follow our Activities to Do with the Kids board on Pinterest here.
This is not a sponsored post.