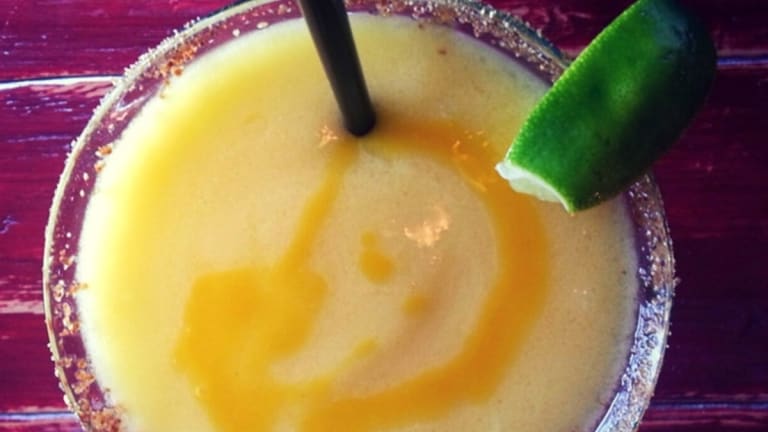 Cinco de Mayo Mango Margaritas
There's a good chance you have everything you need on hand to whip up a batch of these tasty mango margaritas
Cinco de Mayo Mango Margaritas - just go ahead and try to say that five times fast! Actually, skip that and let's get to the mixing, the making, and the margarita-ing (yes, it's a verb). If you didn't get a chance to celebrate Cinco de Mayo yesterday, you don't have to worry. The weekend is here! And there's a good chance you have everything you need on hand to whip up a batch of these tasty mango margaritas.🍹
Related: Super fresh Cinco de Mayo Margarita recipe
I haven't yet found a margarita I didn't want to get to know better, but this mango version boasts all kind goodness. I know it's a margarita we're talking about here, but mangoes do a body good. Mangoes are naturally sweet so you can usually avoid adding sugar to your margarita and one cup of the little yellow guys has over 20 different vitamins and minerals, including 100% of your daily Vitamin C.
Mango Margarita Recipe
The mango margarita recipe is ridiculously simple to make, but you can spruce up your serving of it by choosing from two different glass rim options.
Option 1: Sweet & Citrus - Mix together lime zest and sugar (let the lime zest dry for a few minutes before adding the sugar).
Option 2: Salty & Spicy - Mix together chili powder and sea salt.
Ingredients (makes two)
1 cup frozen mango
1/2 cup tequila
1/4 cup of OJ, triple sec, or orange-flavored liquor
1 squeeze of lime juice
Directions
Rim glass with desired flavors.
Add all ingredients to a blender and mix until smooth.
Enjoy with your favorite chips and salsa!
Find even more of our favorite Cinco de Mayo recipes here!
MORE CINCO DE MAYO INSPIRATION FROM MOMTRENDS
PIN IT!
Use Pinterest to save your favorite cocktail recipes. Be sure to follow our Everyday Entertaining board here.
Please drink responsibly. Momtrends was not paid for this post.