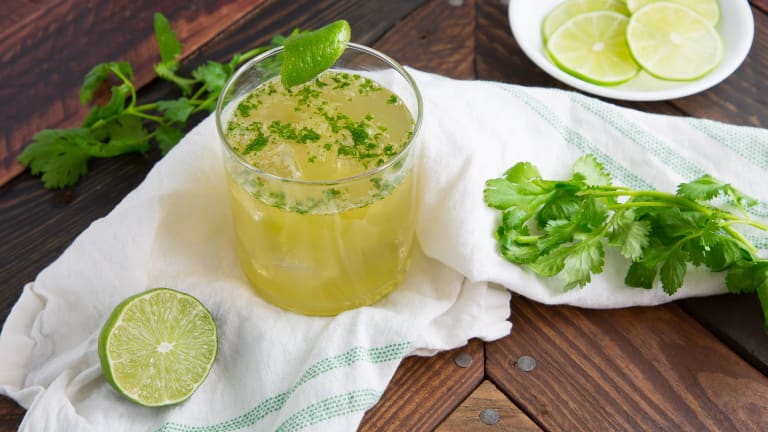 Cilantro Lime Cooler
Happy St. Patrick's Day Ladies! Similar to last week, our weekly cocktail is green in celebration of St. Paddy's Day.
This is not your typical Irish cocktail; however, it is still green. And today, anything green goes.  
Delicious, refreshing, fizzy, and fun are all ways I'd describe my cilantro lime cooler.  And, since it has yummy tequila in it, this is not only great for your "something green", it is perfect for taco Tuesday. 
You know, sometimes Tuesdays are tough. The weekend seems so far away and, hey, you deserve something delicious and relaxing!
Pairing this with an amazing southwestern omelet with peppers and black beans (for brunch, of course) would also be delectable. Brunch season is almost upon us and this cocktail, sunshine, and great food will make for an amazing day.
I try to keep these recipes simple since we are all busy and this cocktail is no different.  Featuring just a few easy ingredients and taking less than 5 minutes to make, this one certainly falls under the simple category.
To start I gather my ingredients, my mortar and pestle, and shaker. To the mortar and pestle, add 4 lime slices, 1 tablespoon of coarse turbinado sugar, and 1 handful of washed cilantro leaves. Muddle thoroughly and set aside.
Add ice to your shaker followed by the muddled ingredients and 1 shot of your favorite tequila. Now shake that shaker!
Pour the contents into a glass filled with ice and then add a 1/2 cup of club soda.  This recipe makes 1 cocktail, but can easily be doubled or tripled to meet your needs.  
Ingredients for one cocktail:
1 handful of washed cilantro leaves
1 tablespoon coarse turbinado sugar
4 lime slices
1 shot tequila
1/2 cup club soda
Ice
Directions:
Muddle the first three ingredients together. Transfer them to a shaker full of ice and add 1 shot of tequila.  Shake. Pour contents into an ice-filled glass and add 1/2 cup club soda.  Give it a quick mix. Serve
Happy Sipping!
This is not a sponsored post.