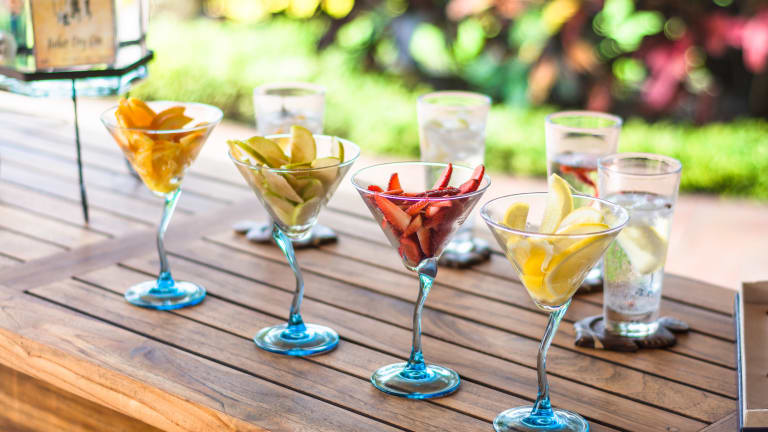 Cheers to You! 3 Simple Vodka Cocktails
Did you know there's a National Vodka Day? Here are some simple recipes to get your cocktails going.
Happy Saturday! In honor of National Vodka Day today (October 4th), we're celebrating one of our favorite spirits with some fun facts and three of our favorite vodka cocktail recipes. Have a favorite vodka recipe you love? Leave a link in the comments below.
Related: Get even more easy vodka cocktails for entertaining here.
National Vodka Day
Every beverage deserves a day to shine. In honor of Vodka Day, we're sharing some fun facts. Did you know...
Vodka can go bad and should be consumed with 12 months of opening? (Have an open bottle? Scroll down for some delicious ways to use it up!)
One ounce of vodka has about 64 calories making it the lowest calorie spirit
A liter of vodka weighs only 953 grams instead of 1000 grams
Vodka doesn't freeze and is best served cold (we store ours in the freezer!)
Compared to other spirits, vodka is the purest since it contains less fusel oils (a by-product of the fermentation process)
3 Simple Vodka Cocktails
Whether you're looking for some new recipes for the upcoming entertaining season or just something to enjoy this Saturday night, here are three easy to make vodka cocktails to enjoy!
Kate's Lemon Drop - This is one of my favorite go-to vodka recipes because it's simple, I always have the ingredients on hand, and it's easy to adjust if you like your cocktails sweeter, fizzier or boozier.
Simple Vodka Cocktails Video
Kate's Lemon Drop Ingredients
simple syrup (make your own! Combine equal parts sugar and water and boil on the stove until the sugar disappears. Store extra in the refrigerator for future cocktails.)
fresh squeezed lemon juice
vodka
sugar
Kate's Lemon Drop Recipe
Use your leftover lemon halves to moisten the rim of a martini glass and roll rim on a plate of sugar. 
Combine a 1:1:1 ratio of simple syrup, lemon juice, and vodka in a cocktail shaker and fill with ice. 
Shake, shake, shake - you want the ingredients to get as cold as possible! 
Strain into prepared martini glasses. Enjoy!
Like your drinks sweeter? Add more simple syrup. Less sweet? Cut back on the syrup. Boozier? You know what to do. You can also top this off with seltzer water for some fizz.
Winter Sun Cocktail Recipe
Here's a variation of a classic using clementines and rosemary that would be perfect for winter. I love the idea of adding some zest to the sugared rim!
Ingredients
juice of 2 clementines (about 1/4 cup)
juice of 1/2 small lemon (1/2 oz)
1/2 oz triple sec
1 1/2 oz vodka
sprig of rosemary
lemon zest
sugar
Directions
Moisten the rim of your glass with some fruit juice. (The juice helps the sugar to adhere better than water does.) Combine zest and sugar in a shallow bowl or plate. Turn the glass over onto plate and coat with sugar. 
Fill your glass with ice, and then add juices, triple sec, and vodka. Stir. Garnish with rosemary sprig.
Moscow Mule Cocktail 
Have you tried this cocktail with a kick? Another simple vodka cocktail that is perfect for fall.
Ingredients
2 oz vodka
3 oz ginger beer
juice of half a lime
Directions
Add all the vodka and lime juice to a Moscow Mule mug or highball glass filled with ice. 
Top with ginger beer and garnish with a lime wedge.
For even more kick, make a Spicy Moscow Mule by muddling slices of chili pepper in bottom of the glass first!
What's your favorite vodka cocktail? Leave a link in the comments below.
MORE COCKTAILS FROM MOMTRENDS
PIN IT!
Use Pinterest to save your favorite cocktail ideas. Be sure to follow our Drinks board here.
Momtrends was not paid for this post.