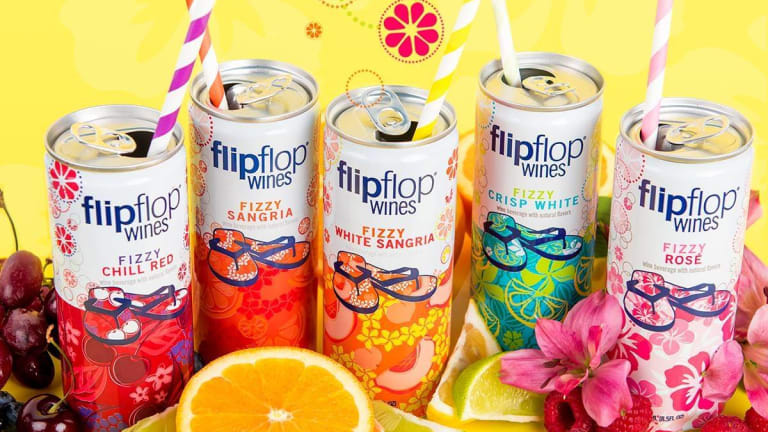 Cheap and Delicious Finds from Flip Flop Wines
Wine with laid-back appeal and a detailed labeling system that allows you to see whether a wine is dry or sweet.
Through the course of testing out various wines (hard job, I know!), I've learned that good wine doesn't necessarily have to be expensive. At a brand event over the summer I had the change learn more about an innovative wine called Flip Flop Wines that offers an extensive collection of varietals.
Related: Sparkling rosé summer sangria cocktail recipe
Cheap and Delicious Finds from Flip Flop Wines
Featuring their signature and playful labels with a set of flip flops, I loved the laid-back appeal of the wines that included an informative and detailed labeling system that allows you to see whether a wine is dry or sweet and even what it tastes like. They use descriptions like "Light-bodied Moscato with floral aromas, semi-sweet palate, and a soft, lingering finish" and even how what to serve it with. In the case of the Moscato, "Pad Thai, Chinese chicken salad or vegetable curry." I loved that there is no guessing game with their wine - so you can literally understand want you want and know what you are drinking.
I sampled the Pinot Noir and Malbec and loved these medium body wines that were from California and Chile, respectively. The Pinot was great with fish dishes and I loved rich taste that was packed with a bit of spice and some cherries while the critically-acclaimed Malbec was great with meat that provided a more full-bodied taste that was also great as a wine at the end of the day.
Not only featuring a delicious taste, and offering a wide variety of options, I loved that all of the wine is all under $10 and that they have partnered with Soles4Souls to help the charity raise money for one pair of sandals for every bottle of wine that is purchased. 
Offering unique and well-balanced, I really appreciated the detailed descriptors that is featured on every bottle and how the wine is not complicated, and simply something you can enjoy at every occasion.
For more information, head to: http://www.flipflopwines.com/ 
Want more information on value-priced wine, check out the top wines under $15.
MORE COCKTAILS AND ENTERTAINING IDEAS FROM MOMTRENDS
PIN IT!
Use Pinterest to save your favorite cocktail ideas. Be sure to follow our wine-time board here.
This is not a sponsored post.