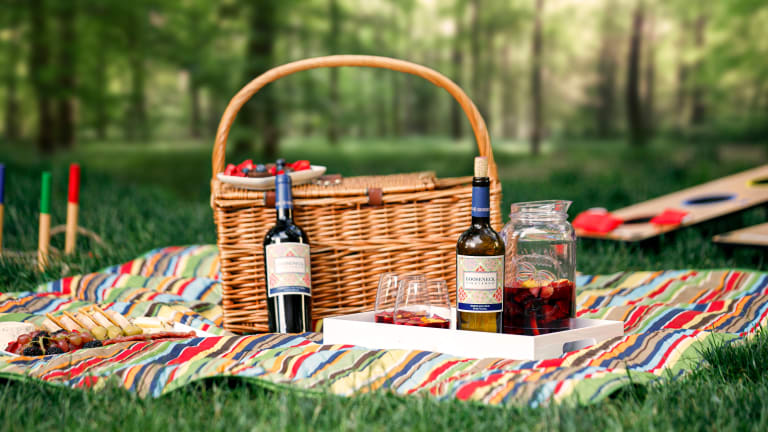 Cheap and Fun Summer Date Night Idea
Plan a date night that's inexpensive and sure to bring out the best in your relationship playing lawn games and sipping sangria.
We're still knee deep in this COVID situation and spending way too much time with the kids. Couple time is suffering. Momtrends is here to help with ideas to keep romance alive during quarantine. Each date night will include a couples-only activity, a wine to sip, snack ideas and tips for setting the mood. This month we're offering a cheap and fun summer date night idea. We're playing lawn games and sipping sangria on the hottest nights of summer.
Related: Summer stargazing date night ideas
Cheap and Fun Summer Date Night Idea
For this date night, we're adding a touch of playfulness in the form of lawn games. We picked games that don't require a ton of space or TALENT. 
This is the summer of corn hole. It's the unofficial state sport of Vermont. Every restaurant with an outdoor area has a few of these sets on hand. I love that this one folds up for storage. 
Ring toss is another fun game and at $19.99 it's a bargain. It doesn't require many rules and is fair for both genders. 
What to Sip in July
Gooseneck has some awesome reds for summer. I know I normally think about white and rosé when the temperatures rise, but with a bit of a chill, a red an be perfect even without the BBQ. 
The Gooseneck Cabernet Sauvignon is a full bodied wine that isn't imposing or too serious. You can pick up the notes of fruit in in (strawberries and ripe blackberries), it finishes with a silky mouth feel. And like all Gooseneck wines, it's under $20. Shop Gooseneck Vineyards Cabernet Sauvignon here.
Another option is the sassy sister wine the Portuguese Heritage Blend. Gooseneck Vineyards' Heritage Red Blend tastes of red fruits and indigenous Portuguese wild flowers. Gooseneck mixes five Portuguese grapes in this wine (notably, it's got 25% Castelao and 25% Touriga Nacional grapes). While I like sipping it straight, I LOVE it in my sangria. I'm sharing my go-to recipe below. Shop the Gooseneck Vineyards Heritage Red here.
Order online here www.gooseneckvineyards.com/at-our-winery.
Save 20% on your order with CODE: Momtrends
Simple Summer Sangria Recipe
For this summer sangria recipe I'm using the Gooseneck Heritage Red
Directions: Chop your fruit and add to a pitcher. Pour in wine and let sit for at least for hours. Feel free to add a bit of honey if you like a sweeter sangria. For the best taste, let this sit overnight. Trust me, it's worth the wait. 
Momtrends Serving Tips: Serve cold and garnish with lemon wedges. You can add ice or seltzer to cut this a bit. But I love it straight. Keep your sangria cold with these awesome insulated wine cups.
Summer Date Night Extras
For this date we put together some charcuterie and fruit. Really, it's not about the food, it's about connecting. 
Momtrends Tip: be sure to bring along some bug spray. I love the scent of this one.
PLANNING YOUR DATE NIGHT
If you can find a babysitter who meets your quarantine standards, book him/her and get your romance on. But here's good news: Many of these activities can happen without the benefit of a babysitter. Plan your date after the kids are in bed.
Don't forget to put on something cute, it doesn't have to be fancy, check out this idea for inspiration.
We hope this theme inspires you. Don't worry, there's going to be more coming soon! 
Don't forget to order your Gooseneck wine online here www.gooseneckvineyards.com/at-our-winery.
Save 20% on your order with CODE: Momtrends
MORE SUMMER FUN IDEAS FROM MOMTRENDS
PIN IT!
Be sure to use Pinterest to save your favorite ideas for date night. And for more Summer Fun, be sure to follow this board.