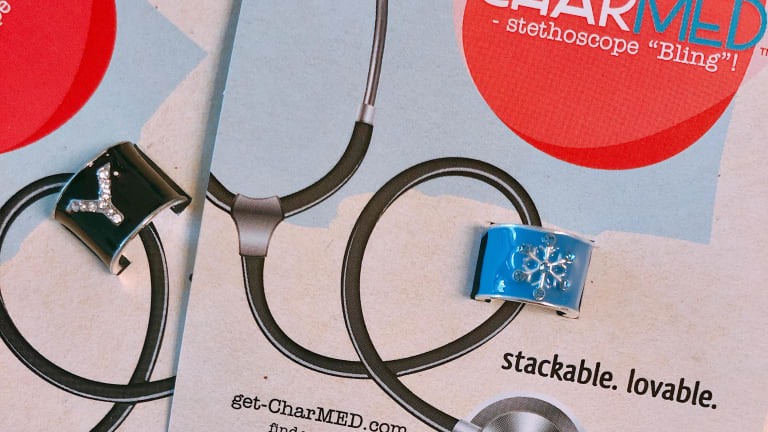 CharMed Stethoscope Charms for Doctors and Nurses
Celebrate Nurse's Week May 6-May 12 with a special gift from CharMed
I never take being healthy for granted. When I put my head on my pillow at the end of the day, I do a gratitude check. My family's health is always at the top of the list. But things happen. And we moms know how delicate our family's health can be. That's where CharMed stethoscope charms for doctors and nurses come in.
CharMed stethoscope charms
CharMed charms are made to dress up a Stethoscope. Doctor Jennifer Namazy dreamed them up. Dr. Namazy is an allergist and immunologist based out of California. Like all of us, Dr. Namazy juggles a lot. With three kids and a full-time job, she is happily living a "full" life. I can relate. I can also relate to the need for a little style boost. When it comes to her hospital work wardrobe, Dr. Namazy says, "there are few opportunities to sparkle." 
That's where CharMed stethoscope charms come in. The charms are jewelry for the stethoscope. Doctors, nurses and physicians assistants consider stethoscopes a necessary part of the job. These healthcare professionals wouldn't go to work without one.  Dr. Namazy said," Why not treat them like jewelry?"
And since I'm sure you are wondering, CharMed charms are made of zinc which naturally resists bacteria. To clean, simply wipe down your stethoscope and charMED bling with a swipe of 70% isopropyl alcohol solution. 
Celebrating Nurses with CharMed
We think it's a great time to celebrate the women who take care of us and our families when we are sick. Next week is Nurse's Week (May 6-May 12) and here at Momtrends we have a few special caregivers in mind. 
2019 has had its ups and downs. On the upside, our Editor, Lauren, had a beautiful baby girl. For that special delivery nurse, we love the idea of a Smiley Face Charm. A little piece of jewelry is a terrific way to thank the medical team that went above and beyond to help deliver a baby.
And we know it's not all roses and sunshine at hospitals. One of our team members has been spending a great deal of time at the hospital. This year her son was diagnosed with a chronic disease. 
2019 has a been a year of education and compassion for her and her family as they research the best care for her son. She's been grateful to a handful of nurses she's encountered along the way. The ones who give her extra TLC as she navigates the changes in her family and learns about drug dosages, restrictive diets, and medical procedures. For those dedicated and experienced nurses I love the Milestone Charms. A milestone charm recognizes service and achievement in a sparkly and pretty way. 
Find out more about CharMed here:
Saying Thanks to Those Who Keep Us Healthy
Nurse's Week is just one reason to celebrate. I bet each of us has a nurse or doctor who has held our hand through a challenging situation. 
I know a unicorn charm from CharMed is a small thing. But I think small acts of kindness truly matter. When we can make the healthcare system small and more personal, we all benefit.
From unicorns to astrological signs, there's a charm to celebrate all the special medical professionals in your life. Head to https://www.get-charmed.com
Pin it!
Use pinterest to save your favorite gift giving ideas.
This CharMed Stethoscope Charms for Doctors and Nurses feature is a sponsored post.