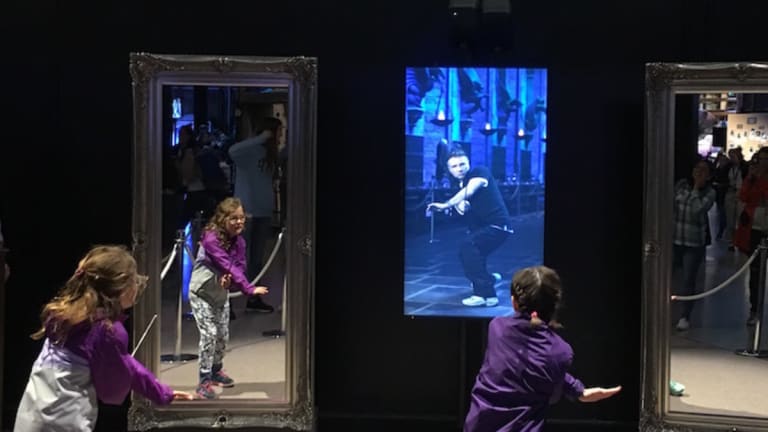 Celebrating 25 years of Harry Potter
2022 is the silver anniversary of J.K. Rowling's magical classic Harry Potter and the Philosopher's Stone!
There are two types of people in this world. Those who believe in magic and those who don't. Thankfully the believers amongst us got some new recruits thanks to J.K.Rowling. Harry Potter and the Sorcerer's Stone made its debut on September 20, 2008. Since then, the series has sold more than 500 million copies worldwide, and has made J. K. Rowling a billionaire. But more importantly, it reminded us of our love of books and our love of magic.
Related: Make a Harry Potter lightening bolt bookmark.
Four Ways to Celebrate the World of Harry Potter 
This fall, I've got a few idea son how to celebrate the upcoming 25th anniversary.
Get crafty with some new Harry Potter materials. 
Reread the series
Go see with Harry Potter and the Cursed Child now on Broadway. 
Plan a trip to London to take the official studio tour. 
Get Crafty with Harry Potter
Over the lockdown days, my family got into hand lettering and crafting. These products are perfect for any muggle who wants to recreate some of the Hogwarts world at home. First, you'll working your new skills into everyday tasks. Add creative flourishes to your handwritten notes, signs, or artwork by using the techniques in Harry Potter Hand Lettering! Learn to write the alphabets for all four Hogwarts houses, draw the official house crests, and even create a house crest of your own in this 176-page instruction book. You'll find useful information on font selection, must-have supplies, practice techniques, and step-by-step directions that yield spectacular results. Plus there are plenty of blank pages for practice!
Get the book on Amazon here ($18.99). 
Next up, try some crochet. Create your own magic and conjure up these adorable figures of "the boy who lived" and his friends. All the spells you need to make amigurumi dolls of Harry Potter and Dobby are included: yarn, stuffing, needle and thread, safety eye beads, and the special magic wand crochet hook! A 76-page instruction book gives step-by-step directions to make ten more magical models, and the full-color photos will ensure your projects turn out completely enchanting.
Get the crochet kit on Amazon here ($24.99)
Win it!
We're giving away a set of the crochet kit and the hand lettering book to one lucky Harry Potter fan (value $44). Enter below using Rafflecopter.
Revisit the Harry Potter Series
2022 is the silver anniversary of J.K. Rowling's magical classic Harry Potter and the Philosopher's Stone! In celebration of 25 years of Harry Potter magic, Bloomsbury is proud to be releasing a special commemorative edition featuring the much loved original cover design, with artwork by Thomas Taylor. To celebrate this masterpiece of fiction, you could start by re-reading the entire set. Or if you've managed to not tear through all seven books, you can start fresh. Buy the complete boxed set here.
Take a minute to marvel at HOW these works came to life. I learned about this grid from www.milanote.com. To plan the fifth novel in the series (Harry Potter and the Order of the Phoenix) Rowling created this hand written "spreadsheet" to map out the plot points spanning Harry Potter's fifth year at Hogwarts. Here's what Rowling says:
"I really plan quite meticulously. I know it is sometimes quite boring because when people say to me, 'I write stories at school and what advice would you give me to make my stories better?' And I always say (and people's faces often fall when I say),­­ 'You have to plan,' and they say, 'Oh, I prefer just writing and seeing where it takes me.' Sometimes writing and seeing where it takes you will lead you to some really good ideas, but I would say nearly always it won't be as good as if you sat down first and thought, Where do I want to go, what end am I working towards, what would be a good start?"
After the books are read, it's time for a movie marathon. My favorite might be The Deathly Hallows Part 1. Director David Yates really shows the humanity of the magical creatures. It's a dark, dark movie, but so expertly acted. 
Harry Potter and the Cursed Child
I loved this Broadway show. For lovers of the books and the movie, it continues the story. It's a multi-award winning show and a bit of Broadway magic. Read the full Momtrends review here.
Harry Potter Studio Tour London
While more ambitious families might try to squeeze in more into a day, we opted to make the Harry Potter tour the BIG part of our day in London. You should also see the London Eye and go to tea, but this tour can't be rushed. You'll need about 3.5 hours for the tour, plus time to shop. 
Tell me friends, how are you celebrating 25 years of Harry Potter?
MORE HARRY POTTER ON MOMTRENDS
PIN IT!
Get more inspiration from our What to Read page on Pinterest.
This Celebrating 25 years of Harry Potter feature is not sponsored.