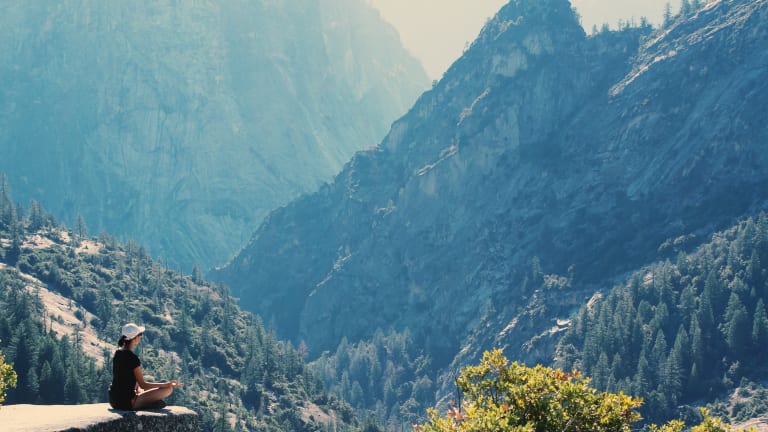 Celebrate World Meditation Day
In a world turned upside down, parents need a moment of peace, give yourself a moment to breathe.
In a world turned upside down, parents need a moment of peace, give yourself a moment to breathe.
Are you feeling unsettled? You aren't alone mama. From one day to the next, we are bombarded with conflicting news and disappointment. Yet as parents, we've got to keep going and keep inspiring the kids. Give yourself the gift of time this week and celebrate World Meditation Day on Thursday, May 21st. 
Related: Monster meditation for kids to find stress relief
Celebrate World Meditation Day with Headspace
On World Meditation Day, I will be joining Headspace Co‐Founder Andy Puddicombe — along with Headspace members around the world — in a very special live group meditation. It's 3pm on East Coast time and it'll be an ideal time to pause from our homeschooling to take a collective breath.
Tune in this Thursday, May 21st at noon PST on Headspace's Facebook, YouTube, or LinkedIn pages.
Why Meditation Matters
I've not been meditating for more than two years. It started on a whim when I was introduced to Headspace for some work projects. Being a good journalist, I tried the service out before I wrote about it. I started slow and was pretty squirmy at the beginning. Slowly, slowly, I made some headway.
I now practice two times a day. A 10-minute session to start the day. I use the daily practice on the app with Andy's voice getting me moving and focused. 
At night I play a sleepcast for the girls (12 and 14) to help the ease into sleep. They've been hit hard by this too. They rely on the sleep meditation to help them transition from working at home. It's really helping. They are sleeping better, and as a family, we're all relating to each other better. 
I'll be honest, some days are harder than others. One the first weeks of the COVID crisis, I was sleeping horribly and terribly unsettled. I felt unmoored. Putting my practice to work really helped me and I believe it's helping all of us.
This type of self care is inexpensive (in fact free to start)and really an investment in your mental health. This is one case where you should believe the HYPE. 
Start your free trial
Sign up here and get your first 2 weeks free. Automatically converts to yearly payment of $69.99 USD. Cancel anytime.
In the meantime, don't forget that just a few minutes of meditation can make a positive impact on your entire day. Got 3 minutes now? Why not start on World Meditation Day!
During this crisis, our mental health is suffering. Headspace is there to give you the tools and resources to look after your mind. 
More Meditation For Free for the Unemployed
The current state of unemployment in the US has become an alarming crisis. To help those affected, Headspace is offering a full year of Headspace Plus for free.* Discover meditation and mindfulness tools to help you feel less stressed, more resilient, and kinder to yourself. Head here to get the app for free.
MORE SELF CARE FROM MOMTRENDS
PIN IT!
Use Pinterest to save your favorite ideas from Momtrends. Be sure to follow our Fitness and health board here.