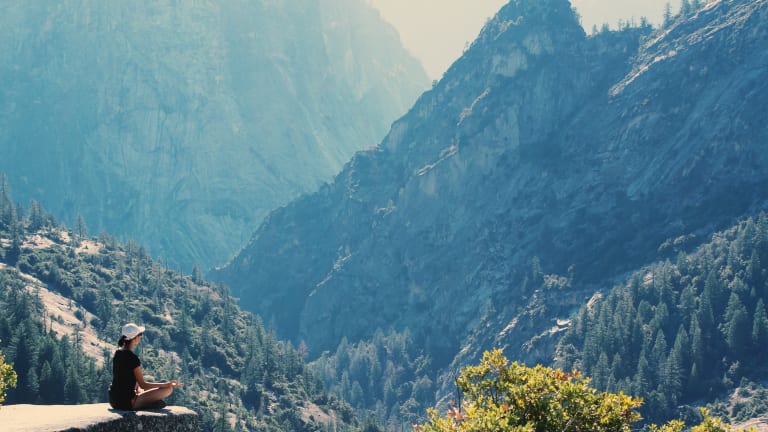 Celebrate World Meditation Day
In a world turned upside down, parents need a moment of peace, give yourself a moment to breathe.
Are you feeling unsettled? You aren't alone mama. From one day to the next, we are bombarded with conflicting news and disappointment. Yet as parents, we've got to keep going and keep inspiring the kids. Give yourself the gift of time this week and celebrate World Meditation Day on May 21st. 
Related: Monster meditation for kids to find stress relief
Celebrate World Meditation Day 
One thing we've learned from this year, is the only thing we can count on is change. Uncertainty can be really, really rough. Meditation is a tool for all of us. There's no fee, no membership, no barrier to entry and you can start a practice whenever, wherever. 
Maybe designating a "day" is what you need to give it a try, and that's great, but also know you can start where you are when you are ready. 
Why Meditation Matters
I've not been meditating for more than two years. It started on a whim when I was introduced to Headspace for some work projects. Being a good journalist, I tried the service out before I wrote about it. I started slow and was pretty squirmy at the beginning. Slowly, slowly, I made some headway.
I now practice two times a day. A 10-minute session to start the day. I use the daily practice on the app with Andy's voice getting me moving and focused. 
At night I play a sleepcast for the girls (12 and 14) to help the ease into sleep. They've been hit hard by this too. They rely on the sleep meditation to help them transition from working at home. It's really helping. They are sleeping better, and as a family, we're all relating to each other better. 
I'll be honest, some days are harder than others. One the first weeks of the COVID crisis, I was sleeping horribly and terribly unsettled. I felt unmoored. Putting my practice to work really helped me and I believe it's helping all of us.
This type of self care is inexpensive (in fact free to start)and really an investment in your mental health. This is one case where you should believe the HYPE. 
Three Ways to Reduce Stress Through Meditation
According to Mindful, this type of meditation alleviates anxiety in three ways:
Learn to stay with difficult feelings. When you stay in the moment you can dig in without analyzing, suppressing, or encouraging them.
Explore the causes of your stress and worry. Without attachment, you can examine how you got to this place.
Create space around your worries. Give yourself room to breath and think so your stress doesn't consume you. 
Meditation Apps and Resources
Head here to see our favorite meditation apps. And invest in this audiobook, The Headspace Guide to Mindfulness by Headspace Founder, Andy Puddicombe to start your meditation practice with a bit of structure. 
In the meantime, don't forget that just a few minutes of meditation can make a positive impact on your entire day. Got 3 minutes now? Why not start on World Meditation Day!
During this crisis, our mental health is suffering. Be kind to yourself and know you are a valuable member of our community.
MORE SELF CARE FROM MOMTRENDS
PIN IT!
Use Pinterest to save your favorite ideas from Momtrends. Be sure to follow our Fitness and health board here.