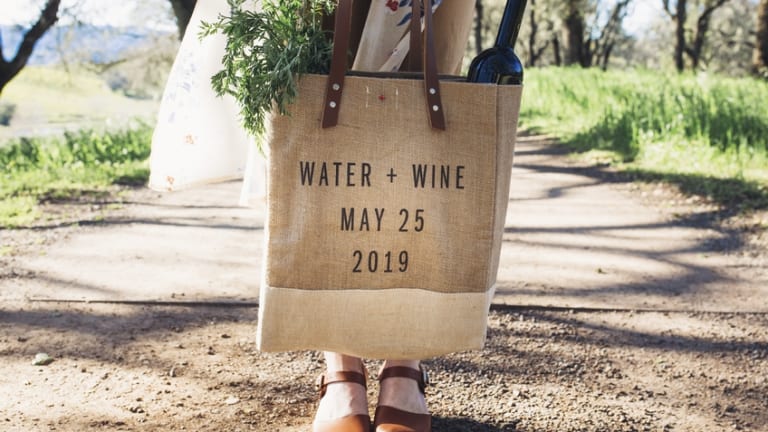 Celebrate Wine Day with Cool Wine Tote
Apolis personalized totes carry a message
It's time to celebrate Wine Day with a cool wine tote from our friends at Apolis. Summer has arrived and that means farmer's markets, dinners outdoors and weekends away. All these things require a good tote.
This year, the highly anticipated, limited-edition Wine Tote is being released for one week only May 25 - June 2 to celebrate National Wine Day and raise over $75,000 for charities that bring water to communities in need around the world.
Customize Your Tote from Apolis
Now is the fun part. First, get your tote here. When you order, enter up to three lines of text to be handprinted your Impact Customizable Tote just for you. Note that since these bags are made–to–order, it will take 2–4 days before shipping.
The bags are made in Bangladesh. The mothers who handcraft each Apolis bag receive Fair Trade wages, annual profit dividends, and a retirement fund; read this Forbes.com's article on how this approach is changing people's lives, with 500,000 bag owners and counting.
Why you need a chic wine tote
Many moms like to sip wine to celebrate small successes and the parenting sisterhood. If you're like me and a sensible sipper, Memorial Day weekend is the perfect time to create a moment with friends where you open a nice rosé and welcome summer. This tote makes a personal fashion statement.
Long Handle & Water-Resistant Carryall: Long, vegetable-tanned leather handles with two water-resistant interior wine bottle pockets make for a smooth over-the-shoulder carryall that's easy to wipe clean.
A tote that turns wine into water
But this bag is more than a tote, it's a chance to reverse the biblical lesson where water turned into wine. 
Stick with me here. 
In this case, buying wine (totes) turns into water. The donations will build 63 piped systems in Nepal to serve at least 630 people for a lifetime. Learn more about Charity: Water in Nepal.
Find out more about the Water + Wine program here
Did you know that there are 663 million people in the world without clean water? That's nearly 1 in 10 people worldwide - twice the population of the United States. 
About the Apolis Wine + Water Bags
I feel good knowing Apolis sources their bags ethically and sustainably, so I get a beautiful bag and can make a difference in the world, too. 
This clean water movement means a lot to me. We'll be helping  people who live in isolated, rural areas and spend hours every day walking to collect water for their families. Not only does walking for water keep children out of school and take up time that parents could be using to earn money, but the water often carries diseases that can make everyone sick. 
Click here to customize your tote with apolis.
Pin it.
Use pinterest to save your favorite ideas.
This Celebrate Wine Day with Cool Wine Tote feature is not sponsored, there are affiliate links in this post.