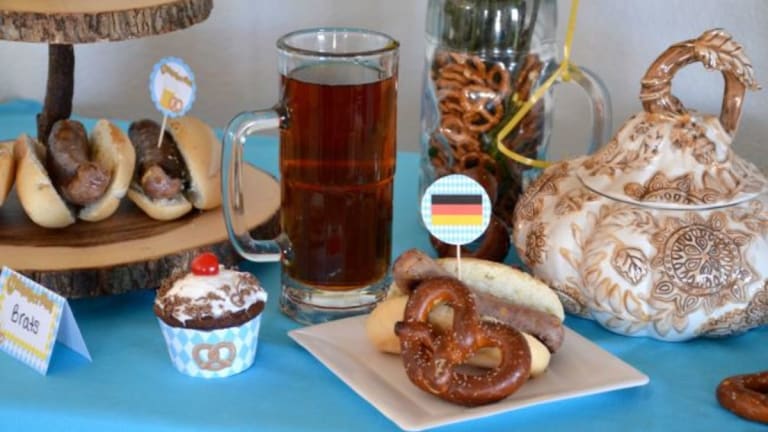 Celebrate Oktoberfest with Home Brewed Beer Party
While Oktoberfest is traditionally celebrated in Germany, you can celebrate this fun beer themed party at home with our easy tips and decor ideas.
That's right! You're all invited to our Oktoberfest party. I wish I really could have you all over for brats and beer in celebration of this German holiday.
Related: Delicious Caraway-Cheese Soft Pretzels Recipe
Planning your Oktoberfest Celebration
This year, Oktoberfest is celebrated between September 19 and October 4th. While Oktoberfest is traditionally celebrated in Germany, you can celebrate this fun beer themed party at home with our easy tips and decor ideas.
The colors of Oktoberfest are blue and yellow. You don't need to worry about a fancy tablecloth or finding Oktoberfest plates to pull off an Oktoberfest party. We covered our table with a simple blue tablecloth and used white plates and yellow chevron napkins we picked up at a local party store.
We found a party pack on Etsy. This party pack includes two Oktoberfest themed banners, cupcake wrappers, food tents, a custom invite, door sign, drink wrappers and more! Once you purchase this party pack, just print off what you need on card stock and start decorating for your party!
Planning your Oktoberfest Menu
For food we served brats in rolls and oversize pretzels with three dipping sauces: beer and cheese dip, chocolate sauce, and German mustard.
We displayed our party food on some wooden and rustic looking platters, bowls and cake stands.
For dessert we offered black forest cupcakes displayed in the fancy cupcake wrappers from PolkaDotPinwheel. We served them on A cake plate that is made to look like a tree stump.
Plan an Oktoberfest Beer Tasting
Of course you can't have an Oktoberfest party without some beer. We served home brewed Oktoberfest style beer from Northern Brewer company. (More on this beer kit further down in the post)
These beer tasting cards from Partyof5Printables are a great way to keep track of new favorite beers, if you're offering a selection.
These giant pretzel balloons from North Star Balloons really added a fun element to our party. They were a great talking point. How many giant pretzel balloons have you seen?
For more Oktoberfest decor, we hung the printable Oktoberfest banner from PolkaDotPinwheel, displayed flowers in a giant beer mug full of pretzels and found this pretty ceramic pumpkin at HomeGoods.
Our party needed a touch of fall and we loved the way this HomeGoods pumpkin looked like the carved wooden ornate decor that's found all over Germany.
We also picked up some large beer mugs at HomeGoods for an affordable price to serve our home brewed beer in. My husband was especially happy since he likes to collect beer glasses.
Home Brewed Beer Kit
Since my husband is such a beer enthusiasts we got a Homebrew Beer Kit. We choose the Oktoberfest Extract Kit from Northern Brewer to feature at our Oktoberfest party.
The Oktoberfest Extract Kit contains amber malt syrup, dry malt extract, specialty grains, dry yeast (not pictured), corn sugar, hops, and a mesh bag all with easy to follow instructions.
The Oktoberfest Homebrew Kit from Northern Brewer produces a malty and full bodied amber ale. This beer is stronger than your everyday ale, but that is the German style. With this home-brew kit you are able to brew your own Oktoberfest style beer with a slight hoppy and bitter taste, but it's still very smooth and a beer you can enjoy any time of the year.
This would make a good gift for the man in your life. Christmas is just around the corner!
With a few simple touches and some festive printables you can turn your backyard (or living room) into a fun Biergarten like ours for your own Oktoberfest party.
MORE FROM MOMTRENDS
PIN IT!
Use Pinterest to save your favorite recipes ideas. Be sure to follow our Recipes to Inspire Board here.