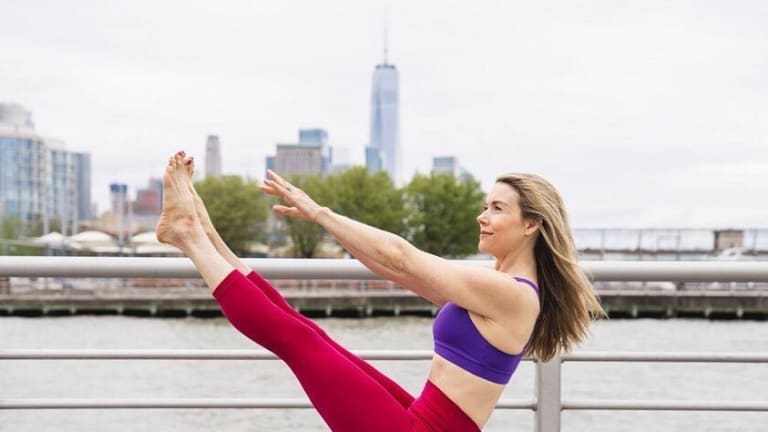 Celebrate National Yoga Month with Kristin McGee
Kristin McGee a top notch fitness instructor shares her yoga knowledge with moms who want to work fitness into their lives.
As we gear up for National Yoga Month, celebrity yoga instructor Kristin McGee is sharing her tips on how to get the most out of your rejuvenating yoga workout. 
Related: Easy poses from Momtrends yoga series
Kristin McGee is a nationally recognized celebrity yoga and Pilates teacher, speaker, mompreneur, and author of Chair Yoga: Sit, Stretch, and Strengthen Your Way to a Happier, Healthier You. Considered a pioneer in the yoga movement, Kristin began her career as yoga teacher in the nineties after graduating from New York University's Tisch School of the Arts. She's now working with Peleton to spread the word about the power of yoga to more moms.
5 Tips for Getting Your Yoga Practice Started
Strike a pose: Look at each yoga pose before actually putting it into practice to ensure proper form and to avoid injury. 
Concentrate: A proper yoga session practiced with the right attitude and breathing techniques can help you not only tone your body, but develop your mental focus, release negative energy and reduce stress.
Build your yoga prowess: Start with basic yoga poses and build on those to ensure understanding of more advanced postures and yoga terminology for safe transition from pose to pose.
Get your space ready: Create a comfortable environment to practice this activity that can help you strengthen the mind, body and spirit, as well as achieve a feeling of well-being.
Focus on the inside: Be childlike and joyful when approaching your yoga practice. Yoga is not a competitive sport; it is about finding a sense of balance, strength and power from within.
Kristin has a deep practice to share. Be sure to follow her on Instagram here @kristinmcgee for continued inspiration.
MORE YOGA FROM MOMTRENDS
PIN IT!
Use pinterest to save your favorite ideas from Momtrends. Be sure to follow our Fitness and health board here.
Momtrends was not paid for this post