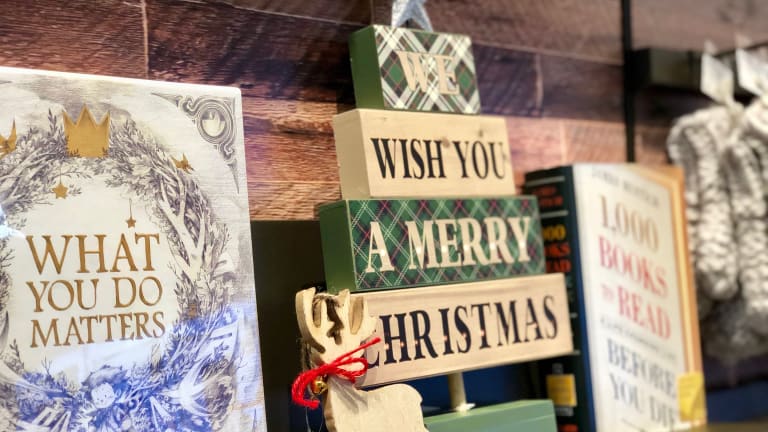 Celebrate Book Lovers this Holiday
Barnes & Noble Holiday Preview
This feature is sponsored by Barnes & Noble
If you've spent anytime with Momtrends online or in real life, you know our team here LOVES books. From our virtual book club that we call #MTBookChat to our informal office book swap, it seems we're always talking about what we're reading or what we plan to read next. When it comes to holiday gift giving, books are a huge part of what we pick. It's time to celebrate book lovers this holiday. And there's no better place to get started than at the Barnes & Noble 2018 Holiday Media Preview Event. We found books for everyone on our list and a ton of other inspired gift giving ideas.
The Barnes & Noble Union Square location is one of my favorites. It's in a bustling part of NYC and has great energy (and it's where I launched my first book, Momtrends!). During my time in the store, I managed to get a HUGE jump on my holiday shopping.  
First, take a look at this fun video from the event:
Books for everyone on your list
The staff at Barnes & Noble loves matching the right book to the right person. They've worked hard to find the best bets for the season. This holiday they've highlighted some awesome gifts. 
Here are the top 10 picks for the book lovers on your list:
Every Breath by Nicholas Sparks
A Spark of Light by Jodi Picoult
The Sun and Her Flowers by Rupi Kaur
Dog Man: Brawl of the Wild by Dav Pilkey
How to Catch a Snowman by Adam Wallace
Unsheltered by Barbara Kingsolver
Hindsight: & All the Things I Can't See in Front of Me by Justin Timberlake
Kingdom of the Blind by Louise Penny
Time's Convert by Deborah Harkness
Brief Answers to the Big Questions by Stephen Hawking
Favorite Picks for Teens & Tweens
This age group is notoriously hard to shop for. Thankfully, the experts helped me round up some great books. To All the Boys I've Loved Before is a trending movie based off the book. It's a winner. This year we saw Dear Evan Hansen on Broadway. Now there's a book about the Broadway show, I'm getting Dear Evan Hansen for my teen.
This year the Harry Potter series celebrated 20 years. It's kind of a big deal and the Potterheads deserve to mark the occasion well. Barnes & Noble has amazing gift ideas for the witches and wizards on your list who already have all the books. There's a pop-up called POP! Harry Potter and an Herbology pack (includes 3 Harry Potter-themed vinyl Funko POP!s of Harry, Ron and Hermione).
Let's try to give everyone more unplugged time this year. There's no better spot to get gifts that gets kids off phones than a trip to Barnes & Noble. For the little ones, we love the Grinch with Max Plush toy (there's a new Grinch movie coming out this holiday. Tweens will love the Lord of the Rings Quest to Mount Doom: A Middle Earth Adventure Game and Superfight: Superchest. 
Shopping for Mom and your BFF's
I'm putting some big hints out there that I want a pair of reading socks for the holidays. You'll find the story packed with cozy home accent pieces and pretty holiday decor. It's the kind of store where you can get everyone checked off your list. There's also great literary themed wrapping paper and cards!
Momtrends Pick: For friends that love home design try Homebody: A Guide to Creating Spaces You Never Want to Leave  by Joanna Gaines
Since you'll be saving yourself the struggle of big box shopping, make sure you celebrate with a cup of something cheerful at the Barnes & Noble cafe, and of course, a new book for yourself.
Now tell me friends? What's on your reading wish list this holiday season? 
This Celebrate Book Lovers this Holiday feature is sponsored by Barnes & Noble