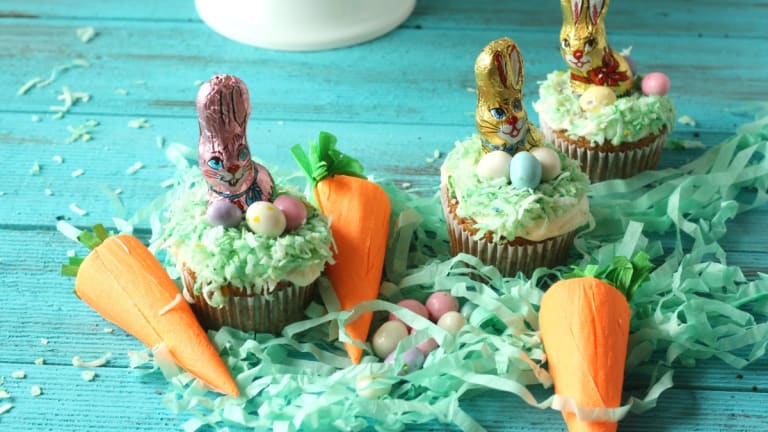 The Most Delicious Easter Carrot Cupcake Recipe
These Carrot Cake Cupcakes topped with Coconut Cream Cheese Icing are perfect for a kid-friendly dessert on your Easter table!
One of our favorite spring desserts is carrot cake. While cake is fun, cupcakes have really become quite popular recently to be served at parties and family get-togethers. The bottom line? They aren't just for the kids anymore!
The Most Delicious Easter Carrot Cupcake Recipe 
The best part about these carrot cake cupcakes? They're a great way to sneak some nutritious vegetables into a sweet treat! Over the years, I have been able to create a recipe with less sugar and oil too! Aren't these Carrot Cake Cupcakes with Coconut Cream Cheese Icing adorable? They're super easy to make and look just like an Easter basket!
The kids can easily help you grate your carrots. Four large carrots should be more than enough.
Easter Carrot Cake Cupcake Recipe 
Makes 12 cupcakes
Prep Time: 15 minutes Bake Time: 15 minutes
Easter Carrot Cake Cupcake Ingredients
1 cup flour
1/2 cup sugar
1 tsp cinnamon
1 tsp baking soda
1/2 tsp baking powder
1/4 tsp salt
4 grated carrots - about 1 1/2 cups
2/3 cup applesauce
2 eggs
Easter Carrot Cake Cupcake Instructions
Preheat the oven to 350 degrees. Line a cupcake pan with cupcake liners or spray with cooking spray.
In a small bowl, combine flour, sugar, cinnamon, baking soda, baking powder and salt.
In a large bowl, mix applesauce and eggs together.
Add the dry ingredients to the wet ingredients. Mix together.
Fold in the grated carrots. If you like raisins or walnuts in your carrot cake, you can add them in now as well.
Scoop 2 heaping tablespoons of batter into each cupcake liner.
Bake 12-15 minutes or until a toothpick comes out clean from the center.
Let cool on a wire baking rack before frosting.
Cream Cheese Frosting
Making your own cream cheese frosting is so delicious! 
Beat together 4 ounces cream cheese, 4 tablespoons butter and 1 tablespoon vanilla.
 Slowly add in 2 cups of powdered sugar. 
To make the green coconut to resemble Easter Basket grass you will just need to add 2-3 drops of green food coloring to a heaping cup of shredded sweetened coconut in a bowl and mix together!
Frost each cupcake with your cream cheese frosting and top with the shredded coconut. Add a cute chocolate bunny and some malted milk ball eggs and you are done!
What's your favorite Easter dessert?
MORE EASTER IDEAS FROM MOMTRENDS
PIN IT!
Use Pinterest to save your favorite entertaining ideas. Be sure to follow our East Pinterest board here.
This is not a sponsored post. All opinions are our own.