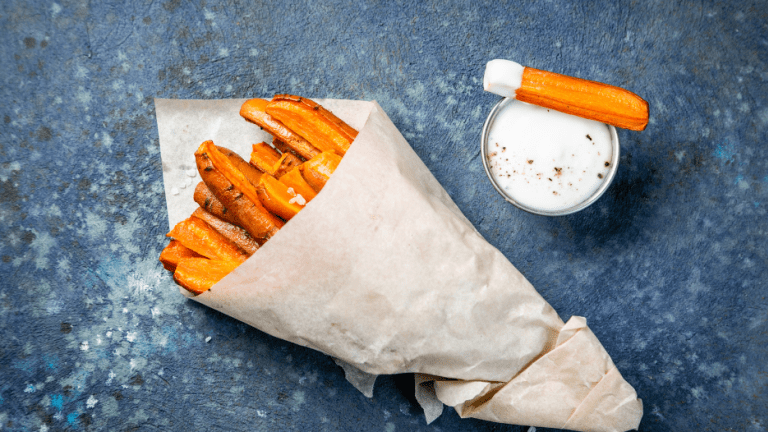 Carrot Fries Are a Healthy Alternative to French Fries
A quick easy and healthy alternative to French fries

Planning your holiday menu? We've got a healthy recipe for your kids to share. We know your kids love french fries (but the MacDonald's kind is 90% fat and super high in calories). We also know it's a project to get them to eat their veggies. What if you could turn carrots into fries? Genius eh? Combine the two and you and kids get the best of both worlds! You will feel great knowing you are giving them something good for them and they will love these tasty dipable veggies.

Related: How to make Green Hulk Waffles
Carrot Fries Ingredients
1 pound carrots
1 tablespoon olive oil
1/4 teaspoon dried thyme
1/4 teaspoon salt
Carrot Fries Directions
Slice carrots into 1/2-inch-wide sticks using a crinkle cutter.
Toss with olive oil, dried thyme, and salt. 
Bake at 400 degrees F for 15 to 20 minutes, or until soft, on a parchment paper-lined pan.
This is a quick easy and healthy alternative to french fries! Even try them at your holiday meal, they will be a big hit with everyone!
MORE KID FOOD RECIPES FROM MOMTRENDS
PIN IT!
Use Pinterest to save your favorite recipes. Be sure to follow our Healthy Eats board
Momtrends was not paid for this post.