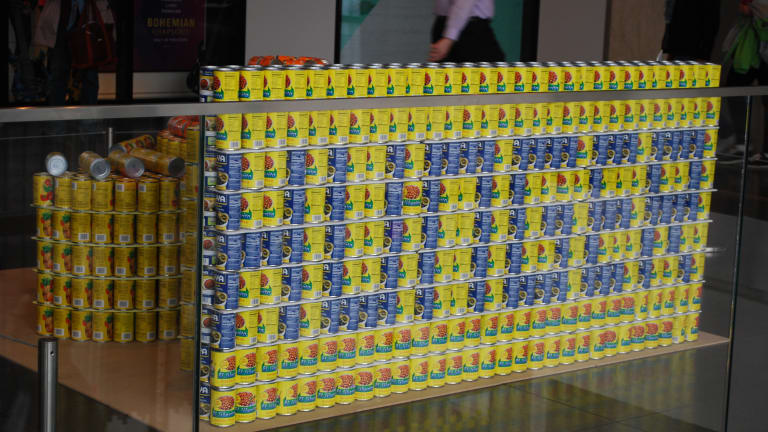 Canstruction Helps City Harvest Collections
Over 82 Million Pounds of Food Donated by Canstruction Events
The holidays are a reminder of the importance of helping others, especially those New Yorkers who cannot always be sure when they will get their next meal. City Harvest, the world's first food rescue organization, has lined up several easy ways for individuals to help put food on the table for our hungry neighbors, just in time for the holiday season. To draw attention to hunger, Canstruction is back to help with City Harvest collections.
City Harvest and Canstruction
City Harvest is working hard to ensure our NYC neighbors in need have enough food during this season. One way they are doing this is through a partnership with Canstruction, the city's most unique design competition.
Through November 21st amazing sculptures made entirely of unopened canned food items will be on display at Brookfield Place in Lower Manhattan. Once the competition concludes, all of the cans will be donated to City Harvest to feed New Yorkers in need. The event is free, open to the public, and a great place to bring the family! Visitors are also encouraged to bring food for donation.
Why Cans?
Cans provide endless variety all year long for neighbors that battle hunger. More than 1,500 food items come in cans. This provides you with almost limitless options in creating flavorful and nutritious meals for your family and friends. And, because fruits and vegetables are picked fresh and quickly sealed in a can, you can enjoy them all year long!
Find Out More About City Harvest Here
City Harvest helped start the food rescue movement in 1982 when a group of New Yorkers saw that New York City had an abundance of excess food even while a large number of its residents struggled to feed themselves and their families. 
They recognized the practical purpose that surplus food can serve if directed to New Yorkers who needed it, filling the plates of the working mom who had trouble making ends meet at month's end, the senior in the apartment upstairs living on a fixed income, or the family around the corner coping with a large and unexpected medical bill.
Get involved
Not only can you donate, you can make your own display. Citywide Competitions are annual events where design industry professionals compete building structures made out of full cans of food which goes to feed the hungry.
Sign up here https://www.canstruction.org/exhibition
Today, City Harvest is New York City's largest food rescue organization, helping to feed the nearly 1.2 million New Yorkers who are struggling to put meals on their tables. Click here for tips on starting a food rescue organization in your own community.
PLAN YOUR NYC VISIT
Check out our NYC page for things to see and do in NYC and don't miss these highlights.
PIN IT!
Use Pinterest to save your favorite NYC outings. Be sure to follow our New York City board here.
Momtrends was not paid for Canstruction Helps City Harvest Collections post. Photos by Ashok Sinha and Canstruction New York.