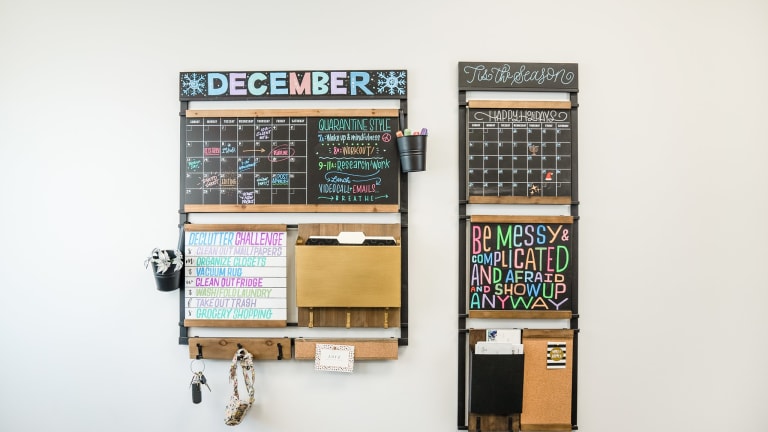 Busy Mom Tips for Managing Family Calendars
Helpful tips for managing family calendars and recommendations for creating your family command center.
If getting organized in style is one of your resolutions, we're happy to share some tips to help organize your family's life on paper.  While I love my phone and all the apps, trust me when I say we all need a visual that is offline. Check out these tried and true busy mom tips for managing family calendars and check out our recommendations for creating your family command center. 
Tips for Managing the Family Calendar
The large family calendar should help everyone in the family understand the basic flow of the week. We use a big ugly white board and colored dry erase markers (prettier options are listed below). Once you have the "vessel" for the calendar, use these rules to stay on top of the family business.

Color Code: Having a color assigned to everyone in the family is key. It will allow for kids to read the calendar more clearly (and even if they are too young to read, they will still recognize their "color" on the wall or screen. 
Location Matters: Here's why I don't think digital calendars are the answer. While it's great to have addresses and emails attached to appointments, it's hard to get everyone on the same page when it comes to technology. For a family with kids at home, a central calendar matters. The kitchen is the logical place.
Prep Time: Make standing weekly appointment to write up the calendar. For me, that's Sunday night. I take a look at the week at a glance. This is also when I notice glaring over-scheduling events. Looking at the big picture really helps.
Leave White Space: I mean this literally. If every bit of your calendar is covered, start cancelling. Your family is stretched too thin.
Review Time: The calendar needs a little presentation. Once a week go over everyone's schedule and responsibilities until it becomes habit to refer to the calendar. 
Details go Digital: Use your calendar app for details like addresses and contact information on all the events. No need to put them up on the big board.
Things to Include on the Family Calendar
Here are some examples of the details moms carry in our heads. The more we can dump this data on paper, the saner we will be.
Parent travel schedules
Sports
Music practices
School events
Doctor Appointments
Vacations
Optional: Meals, school pick-ups (if this is always the same person, no need to include it)
Family Calendar Inspiration
Ready to get started? I've rounded up some awesome inspiration on how to get your family calendar going.
The Happy Housie: DIY giant chalkboard kitchen weekly planner
Circle and Square Decor: Rustic Dry Erase Board (etsy shop)
Stilo Magnetic Dry Erase Calendar for Fridge (amazon find)
MORE DESIGN TIPS FROM MOMTRENDS
PIN IT!
Need more ideas on what to do with the kids? Be sure to follow our Organization board on Pinterest here.